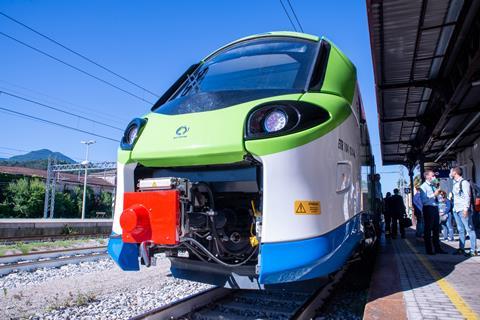 ITALY: Lombardia regional passenger operator Trenord has introduced 'buy now pay later' functionality for ticket purchase made online at trenord.it or through its Trenord app, thanks to a partnership with Milano-based payments company Scalapay.
Passengers using regional trains or the premium Malpensa Express services who book single journey tickets, multi-ride carnets, or integrated passes valued at €10 or more using Trenord's digital channels are now offered the option to pay in three monthly instalments. The Scalapay functionality splits the payment equally without adding any surcharge or interest.
Explaining that the 'smart and innovative service' is intended to encourage greater use of regional trains in Lombardia as 'a sustainable means of transport par excellence', Trenord said it was the first rail public transport operator to sign a partnership with Scalapay.
To encourage take-up, Trenord is offering travellers an introductory €10 discount for their first digital purchase of tickets valued at €50 or more which is paid for using Scalapay until August 6. The discount is applied to the checkout basket at the time of purchase, so that the user is able to see the reduced amount to be deducted in each of the three instalments.