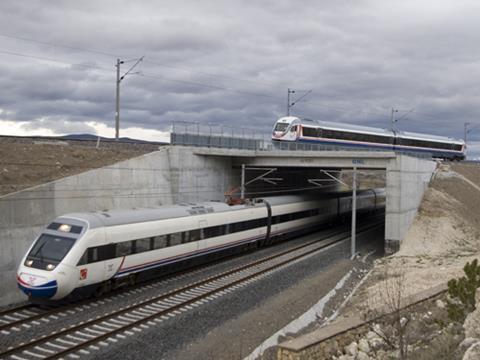 TURKEY: The government has designated 61 routes or service groups as eligible for Public Service Obligation support, under an amendment to Clause 8 of the railway liberalisation legislation which came into force in May 2013.
A presidential decree which took effect on April 8 amended the liberalisation regulations to facilitate the provision of public support for the continued operation of rail services that are seen as socially desirable. It provides for the ministry of transport to sign contractual agreements with any operator, private or state-owned, to run the designated service, although as yet there is no indication whether such contracts would be put out to competitive tender.
The initial list covers the majority of routes run by state-owed operator TCDD Taşımacılık, apart from a few services deemed as 'commercial', and has been split into three sections, broadly by service type.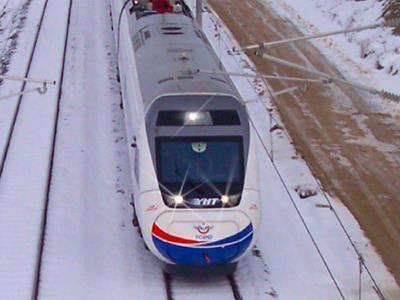 There are seven YHT high speed routes, mainly those serving Ankara and the east of the country rather than the commercial hub of Istanbul. The inter-city category covers 18 conventional services including a number of overnight trains.
The 36 regional routes mainly link smaller towns and cities with the major hubs in each region. There are seven routes radiating from Izmir's Basmane station, three from Mersin and Eskişehir and two each from Ankara and Zonguldak. Also designated is the Samsun – Sivas route which has just been reopened after an extensive blockade for upgrading and electrification.
In the western part of the country, the list includes services from Istanbul's suburban interchange at Halkali and routes to the Greek border crossing at Üzünköprü and the Bulgarian border at Kapıkule.
However, it is notable that a number of routes in the southeast of the country have not been included, such as the Toprakkale – İskenderun branch with its six stations and the Nizip – Mardin – Nusaybin line which runs close to the Syrian border. Also missing are the lines from Van to Kapıköy on the border with Iran and Kars to Doğakapı, on closed border with Armenia.
PSO routes designated under Clause 8
High speed services
Ankara – Eskisehir
Ankara – Karaman
Ankara – Konya
Ankara – Sivas
Konya – Soğutluçeşme
Sivas – Halkali
Sivas – Soğutluçeşme
Main line services
İzmir – Bandirma (17 Eylül Express)
İzmir – Bandirma (6 Eylül Express)
Ankara – Malatya (4 Eylül Express)
Ankara – Halkali (Ankara Express)
Ankara – Gebze (Boğazici Express)
Ankara – Adana (Çukurova Mavi Train)
Ankara – Kars (Doğu Express)
İzmir – Eskişehir (Ege Express)
Kayseri – Adana (Erciyes Express)
Elaziğ – Adana (Firat Express)
İsparta – İzmir (Göller Express)
Ankara – Kurtulan (Güney Express)
İzmir – Ankara (İzmir Mavi Express)
İzmir – Balikesir (Karesi Express)
Konya – İzmir (Konya Mavi Express)
Denizli – Eskişehir (Pamukkale Express)
Konya – Adana (Toros Express)
Ankara – Tatvan (Van Gölü Express)
Regional Services
Adana – Mersin
Adapazarı – Pendik
Afyon – Eskişehir
Amasya – Havza
Ankara – Karabük
Ankara – Polatlı
Aydın – Söke
Basmane – Alaşehir
Basmane – Aydın
Basmane – Denizli
Basmane – Ödemiş
Basmane – Söke
Basmane – Tire
Basmane – Uşak
Çatal – Tire
Denizli – Söke
Divriği – Erzincan
Diyarbakir – Batman
Elazığ – Tatvan
Eskişehir – Kütahya
Eskişehir – Tavşanlı
Gaziantep – Nizip
İskenderun – Mersin
İslahiye – Mersin
Kapıkule – Halkalı
Kars – Akyaka
Konya – Karaman
Kütahya – Balıkesir
Manisa – Alaşehir
Samsun – Amasya
Samsun – Sivas
Sivas – Divriği
Söke – Ortaklar
Üzünköprü – Halkalı
Zonguldak – Gökçebey
Zonguldak – Karabük