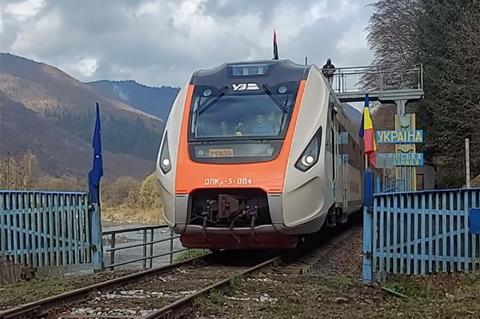 EUROPE: The 19·3 km cross-border rail link between Rakhiv in Ukraine and Valea Vișeului in Romania has been reopened for regular traffic.
The 1 520 mm gauge line through the Carpathian mountains had been out of use since 2007, but has now been reactivated as part of the strategy to improve connections between Ukraine and the European Union. UZ completed the refurbishment of the majority of the line on Ukrainian territory in August, and CFR has now restored the short section in Romania.
UZ initially expects to operate two passenger trains each way per day from December. Interchange will be provided in Valea-Viseului with services on CFR's 1 435 mm gauge network offering connections to Sighetu Marmației, Cluj-Napoca and București.
Services are expected to be operated by UZ's Class DPKr3 DMUs, which were manufactured by Kryukovsky Railway Car Building Works in 2021. One of these was used for the inaugural run on November 9. Journey time from Rakhiv to Valea-Viseului will be around 40 min, excluding the border control procedures which will be undertaken before boarding.