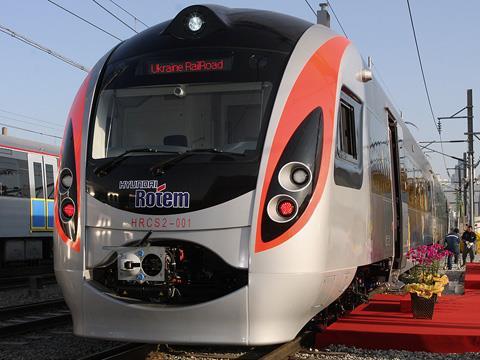 UKRAINE: The first of 10 inter-city electric multiple-units being built for Ukrainian Railways by South Korean firm Hyundai Rotem was unveiled in Changwon in the presence of government and railway officials on December 20
Two of the nine-car trainsets are expected to be delivered to Odessa during February, and will be tested on the Kyiv - Kharkiv route. Four more will follow in May, when the six units are scheduled to enter service in time for the UEFA Euro 2012 football championship the following month; the trains will carry special branding for services connecting the four Ukrainian host cities. The remaining four units will arrive after the tournament.
The EMUs have a top speed of 160 km/h, which will enable state railway UZ to offer accelerated journey times from Kyiv of 3½ h to Kharkiv, 4½ h to L'viv and 5½ h to Donetsk.
The 1 520 mm gauge EMUs feature 2+2 and 2+3 seating, buffet facilities, wheelchair-accessible toilets, racks for hand luggage, onboard video screens, sensor-activated gangway doors, and radio and wi-fi internet access. They are equipped to operate on both 3 kV DC and 25 kV 50 Hz electrification. They will be maintained at modernised depots in Kyiv and Kharkiv, and railway staff are travelling to Korea for training.
The contract for the trains was signed in December 2010, with Korea's export-import bank providing a 10-year credit to meet 85% of the US$261m cost.
Speaking at the unveiling of the first unit, Vice-Prime Minister and Infrastructure Minister Borys Kolesnikov said the trains would launch a strong programme of co-operation between South Korea and Ukraine for the modernisation of the railway network. He envisages future orders for 90 to 100 trainsets which would enable the replacement of up to 300 existing sets up to 50 years old.
He added that Hyundai Rotem is developing a sleeping car proposal for international services from major cities to Moscow, and is considering establishing a manufacturing plant in Ukraine.