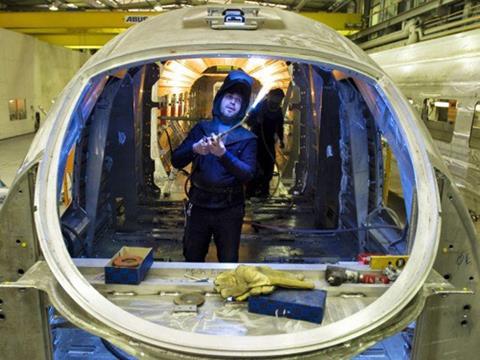 EUROPE: Eurostar provided an update on its £700m fleet investment programme on October 18, saying production of the 10 new Siemens Velaro e320 trainsets at Krefeld which began last year was progressing well.
The first of its existing fleet of high speed trainsets is now undergoing a complete interior refurbishment at SNCF's Hellemmes Technicentre in Lille.
Eurostar said it was on schedule to complete the fleet modernisation project by 2015. The refurbished trains are scheduled to return to service from the second half of next year, and the first e320 is expected to be delivered in 2014 with the rest following rapidly.
Italian design house Pininfarina is responsible for styling both the new and refurbished trainsets.
'The redesign and upgrading of our fleet marks the next phase of our business', said Eurostar Chief Executive Nicolas Petrovic. 'With customers increasingly opting for rail over plane for short-haul journeys across Europe, we want to provide an unrivalled travel experience between the UK and the Continent and to encourage more passengers to choose high speed rail as their preferred option.'
Eurostar reported 'solid' performance in Quarter 3 of 2012, which included the London Olympic Games. At 2·6 million, passenger numbers were 'broadly flat' compared with the same period in 2011. There was a 4% year-on-year increase during the Games period, but a fall in the number of business and leisure passengers in July. Combined with exchange rate movements this resulted in Q3 revenue of £188m being 5% down on last year.
From December 22 to April 13 Eurostar and Lyria are to offer a weekly service between London and Swiss ski resorts. Passengers will change at Lille for Lyria services to Aigle, Martigny, Visp and Brig.