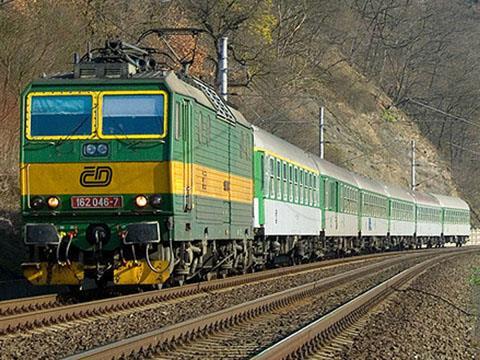 CZECH REPUBLIC: State-owned passenger operator ČD has called bids for the refurbishment of EuroCity and InterCity coaches to be used on Praha – Berlin – Hamburg services from the December 2015 timetable change.
The move follows the signing of a collaboration agreement between ČD and DB on May 22 for the operation of EuroCity services on the cross-border route. This runs for five years from December 2015, with an optional five-year extension.
The long-standing collaboration between the two railways had been interrupted in April 2012, when DB selected private operator RegioJet as its exclusive partner. However, RegioJet was unable to fund the acquisition of new rolling stock because of losses on its Praha – Ostrava open access service where it competes with ČD.
Under the new accord there will be six EC trains each way between Praha and Berlin, of which three will continue to Hamburg. They will run at a regular 2 h interval, connecting in Praha with the ČD/ÖBB Railjet service to and from Wien. Five trains will be operated by ČD, and the sixth by Hungary's MÁV-Start as a Budapest – Praha – Hamburg service. As well as increased marketing of the service, the two railways have committed to improve the level of passenger comfort.
The modernisation contracts will see 93 coaches upgraded for 200 km/h operation, including first and second-class coaches and restaurant cars. All will get upgraded interiors with air-conditioning, at-seat power sockets, wi-fi, audio-visual information and reservation systems, and vacuum toilets. Each trainset will also have spaces for wheelchairs and bicycles plus a children's play area.
The first tender covers modernisation of 63 coaches of types Ampz, Bmz and WRmz supplied by Siemens in 1999-2006, with an option for eight more Ampz. These are ČD's newest inter-city coaches, but the interiors are worn out, and the Ampz seats need to be replaced. This contract is valued at around KC500m.
The second contract, worth Kc425m, covers the rebuilding of 22 second-hand Bmz coaches. Of these, nine will be converted into Type Bmpz open-saloon cars and nine into Type Bbdmpz with a multi-functional space for wheelchairs and a service compartment. These cars form part of a batch of 25 Bmz and nine couchette cars being bought from ÖBB under a KC267m deal signed in April.
The Praha – Berlin – Hamburg trains are to be hauled by ČD Class 380 multi-voltage electric locomotives, which were previously expected to operate the Railjet trains to Austria. However, these have not yet been certified to operate at 200 km/h on DB Netz tracks.