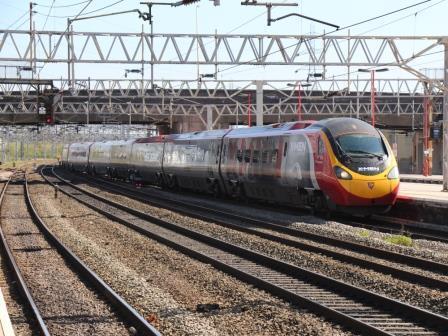 UK: The Department for Transport announced on June 19 that it had agreed terms with Virgin Rail Group for a direct award contract to operate InterCity West Coast services for a further 2 years and 9 months. Virgin is currently running the business under a stopgap agreement signed in December 2012.
The new contract is the sixth direct award to be negotiated by DfT following the relaunch of its franchising schedule in March 2013. Virgin will continue to operate service on the West Coast Main Line until April 2017, when a competitively-tendered long-term franchise is expected to start.
Under the deal, Virgin has committed to pay more than £430m in premia to run the franchise. It will also deliver £35m of 'passenger benefits', including the conversion of one first class coach to standard class on the 21 nine-car Class 390 Pendolino trainsets and the introduction of free wi-fi at stations. More than £20m will be invested in station enhancements, with extra car parking to be provided at Carlisle, Lancaster and Stafford. Another £2·5m will fund interior improvements on the Pendolino fleet, and £2·7m is allocated for improved catering facilities.
In addition, Virgin 'will now start work to secure new direct services from London to both Shrewsbury and Blackpool from December', subject to negotiating suitable paths with Network Rail and the Office of Rail Regulation. Shrewsbury would have two trains in each direction on Monday to Saturday and one on Sunday. Blackpool North would see one train each way Monday to Friday.
'The West Coast provides a vital artery between London and Scotland, and it is crucial we do everything we can to improve services on this much-used route', said Transport Secretary Patrick McLoughlin. 'This deal will provide thousands more seats and better journeys for the tens of thousands of passengers who use these services every day.'
Virgin has committed to working with Network Rail and local communities and stakeholders to look at ways to improve journey times between London and Scotland, including a proposed remodelling of the junction at Carstairs.
Virgin Trains Executive Co-Chairman Patrick McCall said 'we are delighted to have reached a deal, after some tough negotiations with the DfT. It puts the problems of 2012 firmly behind us, and shows the clear benefits of a well-run franchise system. This deal is great news for passengers and taxpayers, with significant benefits for our customers, as well as a big increase in the money we pay to government.'
The Department for Transport announced on June 19 that it had transferred the 40% stake in Eurostar which it holds through London & Continental Railways to the Treasury. A joint venture of Keolis (UK) Ltd and

Eurostar

International Ltd has been shortlisted for the InterCity East Coast franchise, and DfT said the transfer has been done 'to address any perceived or actual conflict of interests resulting from the interaction between the government's stake in Eurostar' and the franchise competition, 'and in particular any perception of bias arising out of the Secretary of State for Transport's shareholding in London & Continental Railways'.