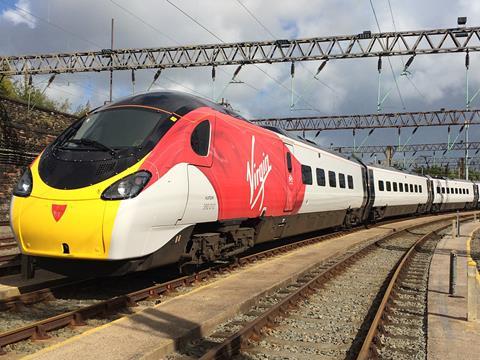 UK: The directly awarded franchise which will see incumbent Virgin Trains continue to operate InterCity West Coast passenger services until the start of the West Coast Partnership contract has now been agreed, Secretary of State for Transport Chris Grayling announced on February 5.
ICWC services have been operated by the Virgin Trains joint venture of Virgin Rail Group (51%) and Stagecoach (49%) under a series of directly-awarded contracts since 2012, when the Department for Transport's franchising programme collapsed after the discovery of flaws in a competitive tendering process which had seen FirstGroup named preferred bidder to succeed Virgin Trains on a new ICWC contract which was subsequently abandoned.
In December 2016 DfT set out its plans for the future long-term West Coast Partnership franchise, which would cover the operation of ICWC services from April 1 2019 as well as the initial service on the first phase of High Speed 2 for three to five years from its opening in 2026. To facilitate the WCP tendering process, DfT said it would directly award a contract covering the interim period.
The contract announced by Grayling on February 5 runs for one year from the expiry of the current ICWC contract on March 31, with the option for an extension of up to one year at DfT's discretion.
Stagecoach said the new contract included 'substantial planned premium payments' to DfT, as well as revenue and profit share arrangements. It expects 'to make a modest profit margin under the franchise'.
Virgin Trains said the agreement included investment of £7·5m. This includes the roll-out of free passenger wi-fi on the Alstom Pendolino fleet between May 2018 and January 2019. It would also 'investigate' providing mobile phone coverage in areas such as tunnels and cuttings where it is not currently available. Other initiatives in the contract are: upgrading all station ticket machines to accept contactless payment; more than £3m to improve station and on-board environments, including additional seating at stations and improved toilets, lighting and carpets on board; additional staff at stations during busy times to improve accessibility; better information during disruption through an improved customer contact system; and new apprenticeship opportunities, including for train driver roles.
West Coast Partnership
The invitation to tender for the West Coast Partnership is expected to be issued shortly. Because of the HS2 element of the contract, DfT requires bidders to have experience of operating dedicated high speed services over purpose-built infrastructure.
The shortlist for the WCP contract was announced on June 22 2017. The bidders are:
First Trenitalia West Coast Rail Ltd, a joint venture between FirstGroup's First Rail Holdings Ltd (70%) and Italian state operator Trenitalia SpA (30%);
MTR West Coast Partnership Ltd, a joint venture of the MTR Corp (UK) Ltd subsidiary of Hong Kong´s MTR Corp and Guangshen Railway Co which operates the 481 km Shenzhen – Guangzhou – Pingshi Railway;
West Coast Partnership Ltd, a joint venture between Stagecoach Group (50%), Virgin Holdings (30%) and SNCF (20%).