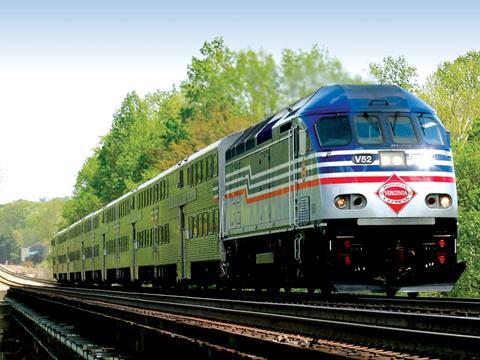 USA: Plans to deliver a significant expansion of passenger rail services in the Commonwealth of Virginia took a step forward on March 30 with confirmation that agreement had been reached between the state government, CSX Corp, Amtrak and Virginia Railway Express to develop rail corridors broadly parallel to the congested I-95 highway south of Washington DC.
Federal Secretary of Transportation Pete Buttegieg joined Governor Ralph Northam and invited guests at an event in Alexandria, to outline a 10-year programme led by the state entitled Transforming Rail in Virginia. This expands on plans first set out in December 2019, which envisaged the state acquiring more than 360 track-km of railway from Class I railroad CSX for $3·7bn, as well as sections of little used or abandoned right-of-way with a view to reinstating and expanding inter-city and regional rail services across the state.
'We have an unprecedented opportunity to build a 21st century rail system in Virginia and along the entire East Coast', emphasised Northam, noting that 'this historic initiative will help get people and goods where they need to go more efficiently, reduce congestion and pollution, and create a more inclusive economy.'
Separating passenger and freight
The agreement confirms that up to $1∙9bn in funding has been put in place to duplicate the Long Bridge over the Potomac River south of Washington Union station, which is seen as a major capacity constraint preventing more services running from the capital to destinations in Virginia. The new structure would carry two tracks dedicated to passenger use, augmenting the existing double-track span.
The state has committed to double its support for Amtrak services, enabling the operation of a nearly-hourly inter-city service between Washington and Richmond. Commuter rail operator VRE is expected to increase its offer by up to 60%, including regular off-peak and weekend services.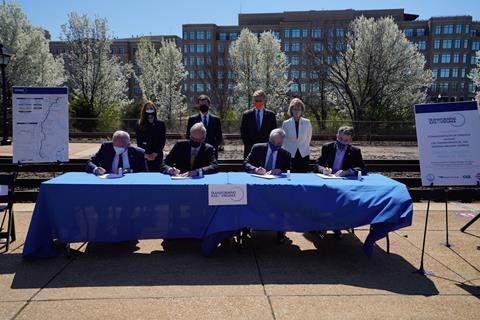 In addition, the programme is expected to explore proposals for a Southeast High Speed Rail Corridor, and protect an existing freight railway between Doswell and Clifton Forge to carry a possible east-west passenger service.
South of Long Bridge, Virginia will acquire from CSX half of the existing rail formation between Washington DC and Petersburg, Virginia; the line between Petersburg and Ridgeway, North Carolina; and the entire rail corridor from Doswell to Clifton Forge. With the exception of a section near Ashland, the former RP&F alignment from Washington to Richmond is wide enough to support a four-track configuration. This would allow one pair of tracks to be dedicated to passenger services and a pair for freight. The agreement with CSX also defines the roles and responsibilities of the parties during the delivery of the necessary enhancement works.
Amtrak operating rights
A $944m contribution from Amtrak over the next decade covers almost 30% of the cost of the TRV programme. In return, the state has agreed that Amtrak will be its exclusive operator of inter-city passenger services along the I-95 corridor for at least 30 years.
'Amtrak is thrilled to be supporting this game-changing rail investment programme as an investor and partner', said CEO Bill Flynn. 'Virginia is a model for the nation in recognising the role passenger rail plays in connecting people and economies. Expanding our state-supported inter-city corridors gives us greater opportunities to meaningfully address the carbon crisis and enhance mobility as our population continues to grow.'
'CSX is pleased to finalise this innovative agreement with the Commonwealth of Virginia that will benefit both passenger rail service and our freight rail customers', added CSX President & CEO James Foote. 'We look forward to implementing the agreement that addresses commuter traffic challenges in the I-95 corridor while preserving and enhancing our ability to grow freight volumes safely and efficiently.'