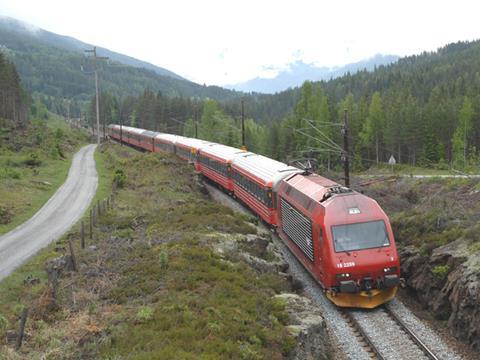 NORWAY: National railway agency Jernbanedirektoratet has named Vy Tog as preferred bidder for the Lot 3 Vest operating contract, which covers long-distance passenger services from Bergen to Voss, Myrdal and Oslo, and local services between Bergen and Arna.
The winning bidder was announced on December 9. Jernbanedirektoratet expects to sign the contract on December 20 after the expiry of the standstill period.
The contract would run for nine years from December 2020, with an option for an extension of up to two years.
The national incumbent beat rival bids from TideArriva and SJ Norge. 'This is a very important victory and we look forward to giving our customers a number of improvements', said Vy Tog Executive Director Arne Fosen.
Jernbanedirektoratet Director General Kirsti Slotsvik said the competition had been fierce, with all bidders proposing to increase service levels. She said Vy Tog's plans were ambitious but financially and operationally realistic, with its offer being deemed the best for both quality, which had a 60% weighting, and cost which had a 40% weighting.
The agency said there would be a number of benefits for passengers, including better punctuality and a focus on customer service, along with improvements to operational efficiency and rolling stock maintenance
Vy Tog would pay the state up to NKr2·2bn for the right to operate the services during the full 11-year period. At present the state pays the operator NKr201m/year for provision of the Bergen – Myrdal and Bergen – Arna regional trains and the Bergen – Oslo overnight service, although the long-distance day trains are not subsidised.
Vy Tog could receive a bonus of up to NKr20m if it meets milestones in the mobilisation process. There are also annual bonuses of up to NKr16m for meeting customer satisfaction targets.
The operator must meet minimum requirements for each group of services, including the number of departures. The fares are required to include discounts for children, students and others. Current staff will be retained, and the operator will be required to enter into an agreement with neutral ticketing agency Entur and to lease vehicles from state rolling stock company Norske Tog.
Lot 3 does not include the passenger services on the tourist-focused Flåm branch, which are operated under a separate contract between line manager Flåm Utvikling and the national operator, but better connections will be offered.
In October 2018 Go-Ahead was selected as the winner of the Lot 1 Sør operating contract, the first to be tendered by Jernbanedirektoratet. This was followed in June 2019 by the announcement that SJ Norge had been selected for Lot 2 Nord.
The Lot 4 contract covering services around Oslo is expected to be awarded next year, with Lot 5 to follow in 2022.