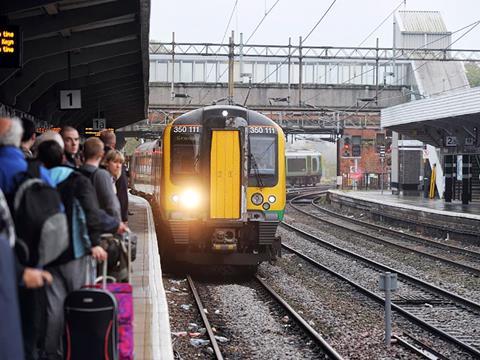 UK: The Department for Transport issued invitations to tender for the new West Midlands passenger franchise to two shortlisted bidders on August 30:
London & West Midlands Railway Ltd, a bid vehicle formed by the Govia joint venture of Keolis (35%) and Go-Ahead Group (65%) which has operated the current franchise since 2007 under the London Midland brand.
West Midlands Trains Ltd, a subsidiary of the Abellio Transport Group business of Dutch national passenger operator NS, with East Japan Railway and Mitsui & Co as minority partners.
MTR Corp had been included on the shortlist announced in April, but subsequently withdrew. Bids are to be submitted by November 29, with the new operator scheduled to take over the franchise in October 2017.
The West Midlands franchise covers local and inter-regional services centred on Birmingham and along the West Coast Main Line. The West Midlands Rail consortium of 14 local authorities worked with DfT to specify the franchise, and will be involved in overseeing it. The ITT sets out the minimum level of improvements which bidders must include in their detailed proposals. Requirements include:
Bespoke local branding of trains as part of a separate business unit managed by West Midlands Rail.
Space for more than 30 000 additional peak time journeys into Birmingham.
Increased frequencies between Birmingham and Bromsgrove and Birmingham and Rugeley following completion of electrification projects.
More than 300 extra Sunday services across the franchise by 2021, with service levels similar to Saturdays.
More evening services from Birmingham to Lichfield City, Bromsgrove, Kidderminster, Whitlocks End and Dorridge, and later Saturday services from Birmingham to Wolverhampton, Bromsgrove and Liverpool.
A new hourly service from Birmingham and Wolverhampton to Crewe via Stafford and Stoke-on-Trent.
Free wi-fi on 'main line' services by the end of 2019.
New ticket options for passengers who travel fewer than five days a week.
New direct peak services between Walsall and London.
At least 60 apprenticeships.
'It is the first time the West Midlands has had this level of involvement in shaping what a train company has to deliver for local passengers', said Councillor Mark Winnington, WMR Chair and leader of Staffordshire County Council. 'The region has come together to grab this devolution opportunity with both hands and we believe that, together with the DfT, we have set out a railway that brings real benefits not only for passengers but also for local businesses, supporting economic growth and jobs.'