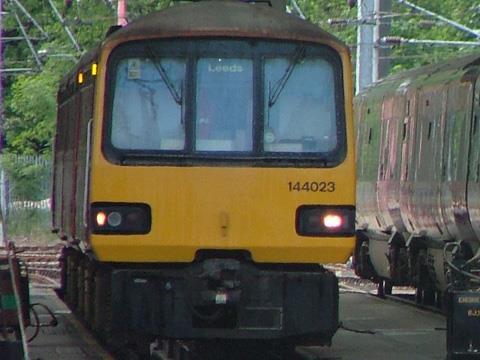 UK: Porterbrook Leasing announced on May 23 that it had completed the purchase of the seven two-car Class 155 diesel multiple-units and 10 Class 144 DMU centre cars from Metro, the West Yorkshire Passenger Transport Executive.
The vehicles are currently leased by Northern Rail which will continue to operate them 'until at least the end of the current franchise', according to Porterbrook.
'Financed by Metro in the 1980s when it funded British Rail to run local services, these well-travelled units will require significant modification in future years, and Porterbrook are better placed to manage and fund this process', said Metro Chairman Councillor Chris Greaves. 'This deal keeps the carriages in Northern's hands until the end of the franchise, while at the same time releasing significant funding for local rail improvements which could include the proposed new stations at Kirkstall Forge, Apperley Bridge and Low Moor'.
Metro is currently preparing to submit a revised funding bid to the Department for Transport for the Leeds Rail Growth Package. Proceeds from the sale of the DMU cars will be added to the £4m already secured from Kirkstall Forge site developer CEG as part of the increased local contribution that DfT has requested.