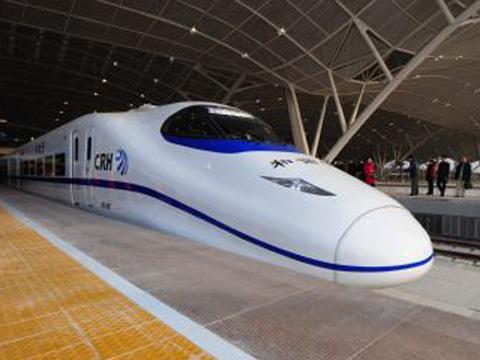 CHINA: The 61·8 km Hankou – Xiaogan Passenger-Dedicated Line was opened for revenue service on December 1. The 200 km/h route with 11 stations is the fourth line of the Wuhan Metropolitan Area Intercity Railway network to be inaugurated. Like the other routes, it is served by a fleet of eight-car CRH2A trainsets, which provide frequent services between 06.15 and 21.05.
Running north from the Wuhan conurbation, the line serves stations at Houhu, Jinyintan, Panlongcheng, Tianhe Airport, Tianhe Street, Minji, Wangmu Lake, Maocheng, Huaiyin and Xiaogan Dong. Interchange with Wuhan metro Line 2 is provided Tianhe Airport. Journey time for the 21 km from Hankou to the airport is 15 min.
Commissioning of Wuhan's metropolitan high speed network began in December 2013 with the opening of the Wuhan – Xianning route serving the south of the conurbation. This was followed in June 2014 by two routes which run east before splitting to serve Huanggang Dong in the east and Huangshi Bei in the southeast. The 85 km Wuhan – Huangshi – Daye route will be shared from 2017 by longer-distance services on the Wuhan – Jiujiang PDL now under construction.
Plans to build 1 104 km of metropolitan high speed railway serving the Beijing – Tianjin – Hebei region were officially approved by China's National Development & Reform Council on November 28. Expected to be completed by 2020 at a cost of 250bn yuan, the nine lines form the first phase of an eventual 3 453 km network serving a conurbation of around 130 million inhabitants.

Four 200 km/h routes will radiate from the capital to Bazhou, Tangshan, Tianjin Binhai New Area and Shijiazhuang, while a fifth will connect Beijing's Capital and New airports via Langfang. Other routes include the Chongli Railway, Langfang to Zhuozhou and Pinggu, and Gu'an to Baoding. According to Zhou Zhengyu, Director of the Beijing Municipal Transport Commission, the first to be built will be Beijing – Yanjiao – Pinggu.