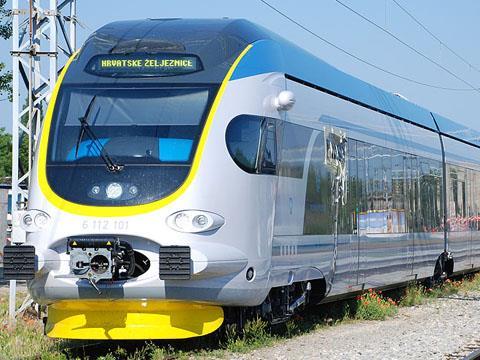 CROATIA: A prototype 25 kV 50 Hz suburban electric multiple-unit developed jointly by Koncar and TZV Gredelj entered service in Zagreb on September 5.
The four-car articulated unit No 6112 101 has been developed as a prototype for the proposed replacement of Ganz Class 6111 EMUs which the HZ PP passenger subsidiary of national railway HZ currently operates around the capital.
It is designed for high capacity, with 185 seats in second class only and space for 271 standing passengers. Low-floor areas provide wheelchair access, and the prototype also features wide gangways between cars, a GPS-based passenger information system, CCTV and air-conditioning.
Three prototype multiple-units are undergoing trials in Croatia, the others being a regional EMU and regional DMU. The October 2011 issue of Railway Gazette International will be profiling them in more detail.