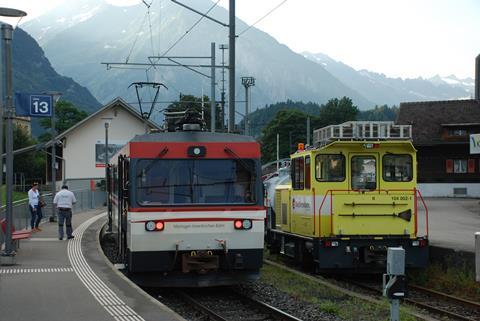 SWITZERLAND: Metre-gauge operator Zentralbahn is to purchase the 5 km Meiringen-Innertkirchen-Bahn from hydroelectric power company Kraftwerke Oberhasli, which has decided to pull out of rail operations because of growing regulatory requirements for what is not part of its core energy business.
The MIB connects with the Zentralbahn at Meiringen. It opened in 1926 to support construction of a power station, a public transport concession was awarded in 1946 and more than 256 000 people were carried in 2019.
A letter of intent for the sale has been signed, and the transfer is expected to be completed by the end of the year. Zentralbahn would take over operations from January 1 2021 with six MIB employees transferring.
A longer term goal over the next five to 15 years is to convert the line from 1·2 kV DC to 15 kV 16·7 Hz electrification and introduce a direct service between Interlaken Ost and Innertkirchen. Some of the existing electrification infrastructure could be retained, and because the line is short a new substation would not be needed.