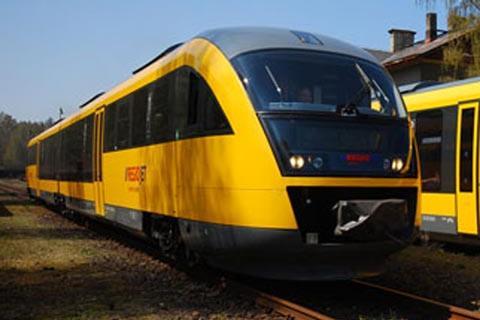 SLOVAKIA: The Ministry of Transport & Construction has selected a partnership of state passenger operator ZSSK and Austrian Federal Railways to operate PSO supported services on the 95 km Bratislava – Dunajská Streda – Komárno line for two years from December 13. They will replace Czech company RegioJet, which has operated the route under contract since taking over from ZSSK in March 2012.
Announcing the decision on September 23, the ministry said ZSSK and ÖBB had offered to provide a better quality of service, including the use of air-conditioned rolling stock, at a lower average price of €9·65 per train-km which would reduce the annual subsidy by around €200 000.
The existing timetable is to be maintained, with slight modifications to optimise station dwell times. The service will still be integrated with Bratislava's regional transport network.
The ministry had called initially tenders for a 10-year contract on December 31 2019, but potential bidders said the conditions were unrealistic and the schedule too tight. An interim two-year contract was then tendered in March, in order to give more time to procure a long-term contract which will run for 10 years from December 2022.
Despite saying the operation was unprofitable, RegioJet had bid to continue running the services using its existing fleet of leased ex-DB Class 628 DMUs and ER20 diesel locomotives hauling former DB double-deck coaches. The operator had proposed to gradually enhance the comfort of the fleet in return for a 10-year contract and a higher level subsidy, but this offer was rejected by the ministry.
Owing to the uncertainty, RegioJet began withdrawing its fleet of Class 643 Bombardier Talent DMUs leased from Alpha Trains, which had been operated on the line from the start of its concession. It now expects to lay off 150 staff.
Services will in future be operated using ÖBB CityShuttle push-pull sets and a ZSSK Bdteer coach hauled by Siemens ER20 Class 2016 diesel locomotives that are currently deployed on Wien – Marchegg – Bratislava REX cross-border services. These will be supplemented by ZSSK Class 754 diesel locomotives and coaches. Less frequent additional services between Dunajská Streda and Komárno will be worked by ZSSK Class 840 three-car Stadler GTW 2/6 DMUs transferred from the High Tatras region. The ministry acknowledged that capacity in the peaks will fall from 500 to 400 seats compared to Regiojet's double-deck stock.
RegioJet reports that it carried 4 million passengers on the line in 2019, compared to just 706 400 in the last full year of ZSSK operation in 2011.