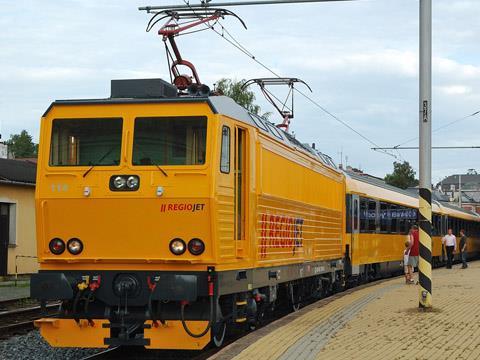 SLOVAKIA: National passenger operator ZSSK announced on December 4 that it would withdraw all of its inter-city services on the 445 km Bratislava – Košice main line with effect from January 18, having previously cut service levels by 40% earlier this year.
Czech open access operator RegioJet had warned in November that it would withdraw its overnight trains from the route on December 13, and that its three daytime trains each way would end during the first quarter of 2016.
The country's principal domestic main line was excluded from public service contacts in January 2012, since when the competing train operators have been expected to provide inter-city services on a commercial basis. As well as the premium IC trains, there are another 16 expresses between the two cities and 14 that use some part of the route.
Suggesting that 'such unpleasant decisions inevitably form part of a competitive environment, ZSSK CEO Pavol Gábor said that despite making 'all the possible measures' to improve the economics of the service and deliver 'tangible improvements' for passengers, the state-owned operator had not been able to make its services profitable. ZSSK expects to record a loss of €1·3m in 2015, the same as in 2014 but down from €3m in 2012. Gábor said the number of passengers using ZSSK's IC trains had been falling steadily since RegioJet launched its service in December 2014.
RegioJet owner and CEO Radim Jančura said on November 23 that his company could not compete with the reduced fares offered by the incumbent, noting the government's policy of offering free travel for a large section of the population. RegioJet is expected to make a loss of €4m in 2015. Jančura had indicated that some staff and rolling stock could be transferred to the Praha – Košice route, where RegioJet plans to introduce overnight trains from the December timetable change.
Jančura has welcomed ZSSK's decision, which he called 'responsible and right' given the 'development of fair conditions for railway business'. RegioJet had suggested that ZSSK had cut its fares below economic levels, and that the national operator may have been cross-subsidising its services using funding intended for publicly-supported routes. ZSSK rejected the claims, saying that it was not attempting to push its rival out of the market.