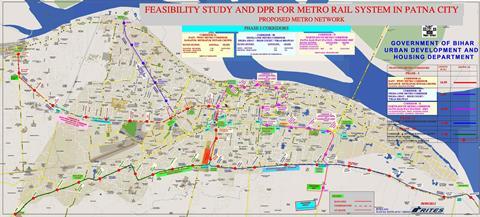 INDIA: Delhi Metro Rail Corp invited bids for the construction of the first section of the Patna Metro project on March 10.
The Rs5·15bn tender covers construction of a 6·1 km elevated section running from Malahi Pakri to New ISBT, which will form part of the 14 km east-west Line 2.
It includes the construction of five stations at Malai Pakri, Khemni Chak – which will provide interchange with the planned 16·8 km north-south Line 1 – Bhoothnath, Zero Mile and New ISBT, as well as a viaduct leading to the New ISBT depot and another viaduct linking both lines.
Construction of this section of Phase 1 is expected to take 30 months. When all phases are complete, Patna Metro's network would total 31 km and 24 stations.