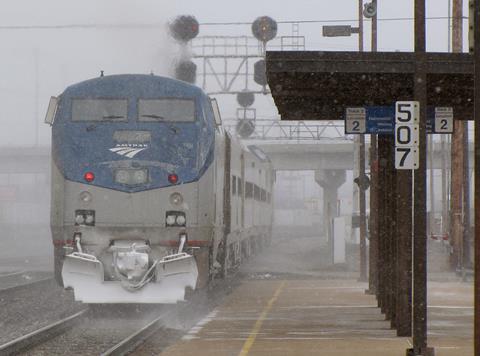 USA: Federal passenger company Amtrak announced on January 5 that it would be rationalising its senior management structure as part of efforts to 'position itself for an even more competitive future'.

President & CEO Wick Moorman has reduced by half the senior management team to create six reporting lines. These are:
Scot Naparstek, Chief Operating Officer;
Jason Molfetas, Executive Vice-President, responsible for Marketing & Business Development;
Jerry Sokol, Chief Financial Officer;
Eldie Acheson, General Counsel & Corporate Secretary;
DJ Stadtler, Chief Administrative Officer;
Stephen Gardner, Executive Vice President, responsible for Planning, Technology & Public Affairs.
Train operations will be managed regionally by three general managers, who will be supported by Mechanical, Engineering, Network Support, Police and Security units. The Marketing & Business Development division will be expanded 'beyond its traditional role to include product development, planning, and contract management functions of the current business lines', Amtrak said.

Certain corporate planning, IT and station and facility functions, as well as the Government Affairs and Corporate Communications divisions, will be transferred to the new Planning, Technology & Public Affairs group.

Amtrak believes that the changes will bringer greater organisational flexibility and enable it to comply with revised accounting procedures required under the FAST legislation passed by Congress last year. This surface transportation bill included funding for Amtrak for the first time.

'Since joining the Amtrak team in September, I've been impressed by the dedication and passion of our employees and leadership team', said Moorman. 'This new structure aligns with our focus on improving the way we do business, enhancing the customer experience, and investing in the future.'

Analysis of the FAST legislation appeared in our February 2016 issue, available to subscribers via our digital archive.