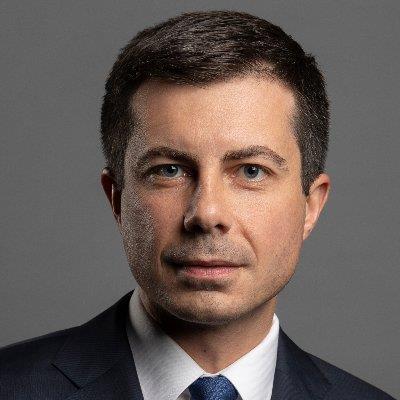 USA: Former Democratic presidential contender and mayor of South Bend, Indiana, Pete Buttigieg, was confirmed as federal Secretary of Transportation by an 86:13 vote in the Senate on February 2.
He follows DOT General Counsel Steven Bradbury, who has been acting as interim Secretary of Transportation following the resignation of Elizabeth Chao on January 7.
Having studied at both Harvard and Oxford universities, Buttigieg worked for consultants McKinsey & Co before being elected mayor. He also served as an officer in the US Navy, and speaks more than eight languages. He was nominated for the post by incoming President Joe Biden, who has made rebuilding and improving the country's infrastructure an important element of his presidency. Aged 39, Buttigieg is the youngest member of Biden's cabinet.
The new administration has also nominated former New York DoT Commissioner Polly Trottenberg as Deputy Secretary of Transportation and Amit Bose as Deputy Administrator of the Federal Railroad Administration.
Industry welcome
Congratulating Buttegeig on his confirmation, Association of American Railroads President & CEO Ian Jefferies said AAR and its members welcomed his 'clearly stated support for our nation's rail network'. They 'stand ready to partner with him on sensible, sustainable infrastructure policies to keep our country moving forward'.
'As a mayor and public servant, Secretary Buttigieg understands the challenges facing American cities and the role passenger rail plays in connecting people and economies', added Amtrak CEO Bill Flynn. 'His commitment to invest in infrastructure and climate initiatives will create jobs, help the nation recover from the pandemic, and provide for a more sustainable transportation system in America.'
Welcoming the appointment 'on behalf of the 600+ small business short line freight railroads serving thousands of shippers throughout small town and rural America', ASLRRA President Chuck Baker said 'Mayor Pete' had 'demonstrated his understanding of the importance of efficient logistics networks to a strong and growing American economy that works for everyone. Short lines look forward to working with him on regulatory and legislative actions that support growth and productivity in freight rail transportation alongside safety improvements and environmental sustainability. Short lines want to be part of the solution — on carbon reduction, on improving safety, on reducing road congestion and maintenance needs, and on job creation and economic growth.'
The Railway Supply Institute's Senior Vice President of Government & Public Affairs Nicole Brewin said 'as a former mayor, Secretary Buttigieg understands first-hand how federal infrastructure investments can strengthen our communities and deliver thousands of good-paying jobs to Americans across the United States. On behalf of our membership, RSI looks forward to working with him to expand opportunities for railway suppliers through robust federal investments and a strong Buy America programme.'