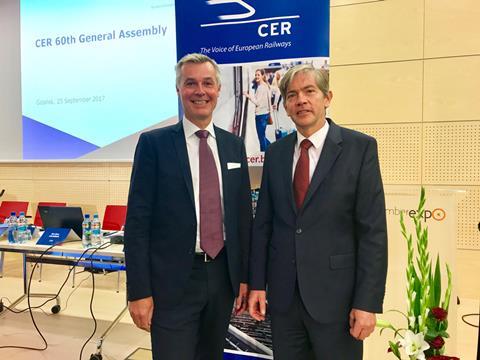 EUROPE: CER named SJ CEO & President Crister Fritzson as its Chairman at its General Assembly in Gdańsk on September 25. Having served as Acting Chairman since February, Fritzson, who is also Chairman of the Association of Swedish Train Operators, will begin the two-year term immediately.
He described the appointment as an honour, saying 'I intend to work closely with all the members of CER and the dedicated team in Brussels, but also seek to strengthen the voice of European railways by means of better co-ordination with other railway organisations.'
CER has also elected its Management Committee for 2018-19, with Ilona Dávid of MÁV, Martin Erdössy from ŽSR, Andreas Matthä from ÖBB and Oliver Wolff of VDV all becoming Vice-Chairs. Members of the Committee have been named as: Juan Alfaro, RENFE; Pavel Krtek, ČD; Richard Lutz, DB; Krzysztof Mamiński, PKP; Renato Mazzoncini, FSI; Andreas Meyer, SBB; Geert Pauwels, Lineas; Guillaume Pepy, SNCF; Paul Plummer, RDG; and Marc Wengler, CFL.