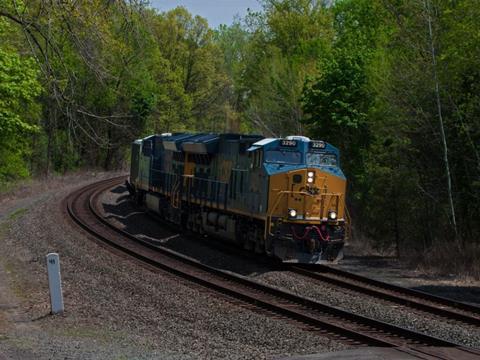 USA: Former Canadian National Executive Vice-President James Foote is to join CSX Transportation as Chief Operating Officer, the company announced on October 25. Most recently serving as President & CEO of Bright Rail Energy, he will take responsibility for both Operations and Sales & Marketing.
Foote will replace the current Executive Vice-President & Chief Operating Officer, Cindy Sanborn, and Fredrik Eliasson, Executive Vice-President and Chief Sales & Marketing Officer. Both will resign with effect from November 15 'to pursue other interests', according to CSX.
Executive Vice-President, Law & Public Affairs, General Counsel and Corporate Secretary Ellen Fitzsimmons will also retire from the same date. She will be succeeded by Nathan Goldman, the current Vice-President, Risk Compliance, who will become Executive Vice-President, Chief Legal Officer and Corporate Secretary. The company says all three outgoing executives will remain available to support the leadership transition until early 2018.
'CSX is pleased to welcome an experienced railroader who will help continue to drive the company's transformation', said President & Chief Executive Officer E Hunter Harrison. 'Jim's proven track record with Precision Scheduled Railroading will be a significant asset as we continue to drive value for shareholders and customers.'
CSX Chairman Edward J Kelly III said the board of directors 'looks forward to welcoming Jim and Nathan in their new roles and wishes to express its thanks to Cindy, Fredrik and Ellen for their tremendous contributions and distinguished CSX careers. Each of them has brought great value to the success, the people and the reputation of CSX, and they will leave CSX well positioned for the next stage.'