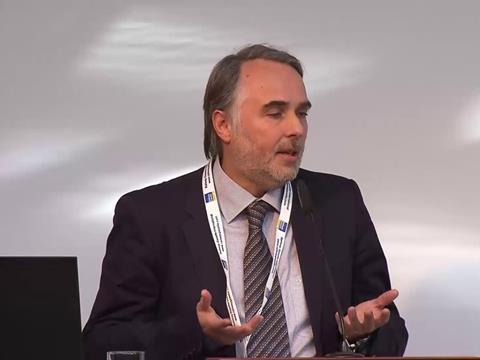 INTERNATIONAL: Currently Secretary General of the Intergovernmental Organisation for International Carriage by Rail, François Davenne has been selected as the next Director General of the International Union of Railways.
Appointed at the 92nd UIC General Assembly in Madrid on July 4, he will join UIC in January 2019, initially as Deputy Director General. He will succeed Jean-Pierre Loubinoux as Director General in mid-2019, with an initial mandate running for four years.
Addressing UIC members following his appointment, Davenne outlined his vision for UIC, calling for a paradigm shift in the rail sector. 'I am truly convinced that UIC is the right place to propose a new vision for the railways', he insisted. Paying tribute to the 'tremendous achievements' seen in recent years, he emphasised that 'we definitively need standards to implement new services.'
A graduate from the Ecole Nationale Supérieure des Télécommunications d'Evry, François Davenne initially worked in the satellite telecommunications sector and then the French housing sector. He subsequently studied at the Ecole Nationale d'Administration, later moving to take charge of railway safety and regulations at the French Ministry of Transport before joining OTIF in 2013.
FS Italiane CEO & Director General Renato Mazzoncini has agreed to continue as UIC Chairman for a further two years.