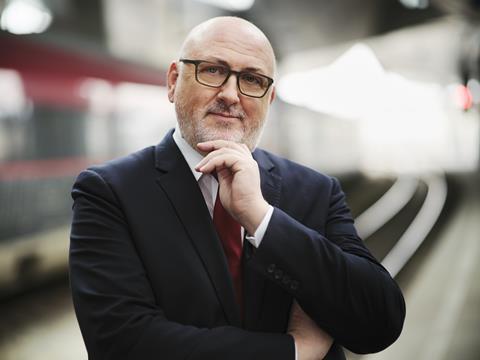 EUROPE: Austrian Federal Railways' CEO Andreas Matthä was elected as Acting Chair of the Community of European Railway & Infrastructure Companies at its meeting on January 20.
He replaces Crister Fritzson, who has headed CER's Management Committee for the past two years. Fritzson was CEO & President of Sweden's state-owned passenger operator SJ AB and Chairman of the Swedish Association of Train Operators, but announced in October that he would be standing down to become CEO of Net Insight AB during the first half of 2020.
Matthä takes over as the longest serving Vice-Chair of CER's Management Committee. He has indicated that he plans to stand as a candidate to serve as Chairman for the next two years, with the regular election due to be held at the association's General Assembly on February 19.
Thanking Fritzson for his commitment to CER, Matthä said he was 'looking forward to working with all CER members to make rail the backbone of Europe's mobility system'. Suggesting that 'these are decisive times for the railway sector', he explained that 'we need to make rail and other means of sustainable transport a centrepiece of the implementation of the European Green Deal. We need to strengthen rail infrastructure in Europe and pay more attention to the challenges and benefits of digitalisation. Europe must foster the right conditions to shift traffic from road to rail.'
Welcoming Matthä as Acting Chair, CER Executive Director Libor Lochman said the sector would 'certainly profit from his vast experience amongst others in positioning railways as part of the solution in the fight against climate change'. He thanked Fritzson for his dedication to CER 'over the past years, which were filled with political uncertainties'.