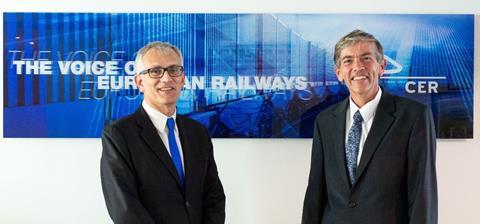 EUROPE: Alberto Mazzola was elected as the next Executive Director of the Community of European Railway & Infrastructure Companies at the CER General Assembly on September 21.
He will take office on January 1 2021, succeeding Libor Lochman who is standing down after 15 years with CER, initially as Deputy Executive Director for technical affairs, and then as Executive Director since 2011.
Holding an MBA and a Doctorate in Nuclear Engineering from Politecnico di Milano, Mazzola initially worked for Leonardo Finmeccanica before joining FS in 2002. He is currently the Italian state railway group's Head of International & Government Affairs, being based in Brussels to deal with European legislation, market regulation and technical standards.
'With Alberto Mazzola, the General Assembly today decided for an outstanding expert, not only in EU policymaking but also in the European rail business', said CER Chair Andreas Matthä, CEO of ÖBB Holding. 'I am confident that he will strongly represent Europe's rail sector towards the European institutions and successfully position rail as the backbone of Europe's future sustainable mobility plans. The Executive Director will also focus on the current Covid-19 challenges, working hard with members to regain customer trust.'
Matthä paid tribute to Lochman for his 'immense' contribution to CER's work over the past 15 years. 'Thanks to his relentless efforts, the finalisation of the Fourth Railway Package has been a stepping stone for the creation of the Single European Railway Area. An era is coming to an end and CER thanks him for all his achievements.'
Lochman said he was 'extremely happy that Alberto Mazzola has been appointed as the next CER Executive Director. We have been working together for years and I know he is recognised by all rail stakeholders as one of the top lobbyists in the EU rail community. He will have the chance to start his mandate with the kick off of 2021 as the Year of Rail and with a freshly published EU Strategy on Sustainable & Smart Mobility. I am sure he will be able to use this historic moment to confirm CER as a key player in the definition of the future EU mobility policies.'
The CER General Assembly also elected MÁV CEO Róbert Homolya as a Vice-Chair, while new SBB CEO Vincent Ducrot joins the association's Management Committee.