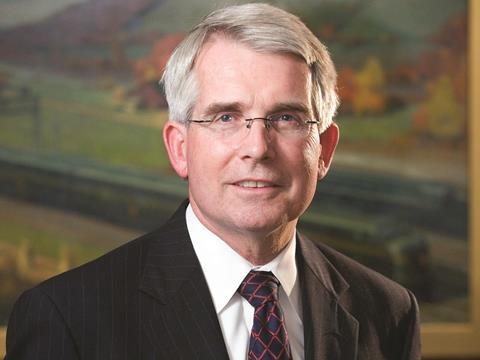 USA: Former Norfolk Southern Chairman & Chief Executive Officer Charles W 'Wick' Moorman has been named as the next President & CEO of Amtrak with effect from September 1, the national passenger operator announced on August 19. He succeeds Joe Boardman, who has served as President for the past eight years but last year announced his intention to retire.
Moorman became Chairman & CEO of Norfolk Southern on February 1 2006, having served as President since 2004 and Chief Executive Officer since 2005. A graduate of Georgia Tech and Harvard Business School, he joined NS in 1970, and served in various leadership positions, including Senior Vice-President, Corporate Planning & Services, and Vice-President, Personnel & Labour Relations. He retired in October 2015.
According to Amtrak, 'having worked with NS from the ground up, Moorman gained an appreciation for the many facets of railroad operations and used this knowledge to modernise the way NS conducted business, served customers and worked with communities'.
Amtrak Chairman Anthony Coscia said the operator was 'very pleased that someone with Wick's experience and vision will lead Amtrak during this critical period as the company charts a course for future growth and improvement. Under Joe Boardman, and with the support of the Administration and Congress, Amtrak has achieved record levels of performance and investment. The board believes Wick can build upon this success in the coming year'.
'Wick's deep operational background and track record of building teams and driving innovation is exactly what we need', added Vice-Chairman Jeffrey Moreland. 'We are confident that, working together with the board, Wick can formulate a strong plan to take Amtrak to the next level and assemble the management team and expertise to carry it forward.'