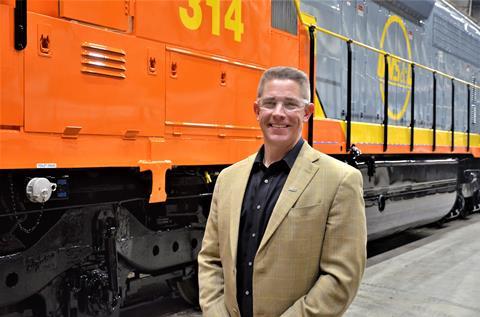 USA: National Railway Equipment Corp announced on July 16 that its CEO Steven L Beal had died suddenly at his home in Ladue, Missouri, on July 11, at the age of 46, adding that the employee-owned business was 'devastated by this tremendous loss'.
Headquartered in Mount Vernon, Illinois, NRE is active in the rail, marine and power industries, and describes itself as the world's largest independent locomotive supplier.
The son of company founder Lawrence Beal, Steven had been active in the rail industry since the age of 12, taking over the leadership of NRE following his father's death in 2010. A 'well-known and highly respected' industry advocate, he had been 'a remarkable leader for the NRE family', the company added.
The NRE Board said it 'remained committed to the Beal family legacy', appointing Steven Beal's brother-in-law Patrick Frangella and Rob Riley to serve as members of a newly-formed Executive Committee which will oversee all aspects of the company until a new CEO can be selected. Both are long-standing members of the NRE leadership team.
Adding that 'NRE has always been a close-knit family business, the company said it and the Beal family had been 'touched by the outpouring of support from many of our customers, as we get through this incredibly difficult time'.
Read our interview with Steven Beal in the September 2017 issue of Railway Gazette International magazine, available to subscribers in our digital archive.