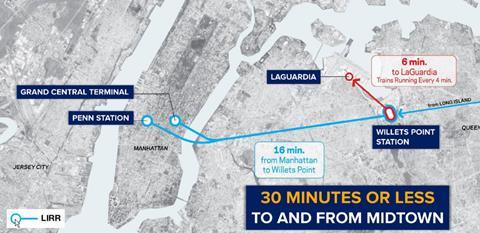 USA: The Federal Aviation Administration issued a Record of Decision on July 20 approving plans by the Port Authority of New York & New Jersey to build a 2∙4 km automated peoplemover to link New York's LaGuardia Airport with Mets-Willets Point railway and metro station.
Costed at an indicative $2∙1bn, the peoplemover would be the first rail connection to the airport, which is currently undergoing refurbishment and expansion; a new terminal opened in July last year. At present, the majority of travellers arrive and depart from the airport by private car or taxi. Public transport options are limited to a few bus services which are subject to delay caused by road congestion.
As with similar peoplemover and monorail links at PANYNJ's other main airports, JFK and Newark Liberty, the LaGuardia AirTrain would provide a short shuttle for the 'last mile', serving two stops at the airport terminals. These would be linked by travelators and escalators to shops, bus stops and car parks. Mets-Willetts Point station would provide interchange with the 7-Flushing Subway line and Long Island Rail Road's Port Washington line.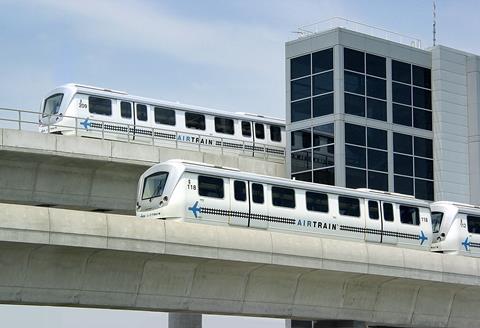 According to PANYNJ, journey time between the airport terminal and either Penn Station or Grand Central Terminal in Manhattan would be less than 30 min, subject to the anticipated completion next year of the long-running East Side Access project to open a deep level station beneath GCT for LIRR services. This compares to car journeys from Midtown of around 50 to 80 min today. The Port Authority believes the peoplemover would remove up to 4 000 car journeys per day from the local road network.
However, the AirTrain scheme has met with criticism from local transport advocates, who have questioned the choice of an easterly approach to the airport, resulting in a long dogleg for passengers travelling to and from Manhattan via Willets Point. They have previously argued that a Subway extension could have delivered more benefits to the local area around the airport as well as offering offer a 'one-seat ride' to and from Manhattan.
FAA Administrator Steve Dickson wrote to environmental campaigners on July 20 to reassert that peoplemover was intended to enhance rail access to the airport, not to provide local transport links.
'The new LaGuardia Airport deserves a reliable, efficient, and affordable transit connector worthy of its destination,' commented New York Governor Andrew Cuomo in a statement. 'With the Federal Aviation Administration's approval today of the LaGuardia AirTrain, that's exactly what New Yorkers will get.'
Construction of the shuttle is expected to begin later this summer for opening from 2025.