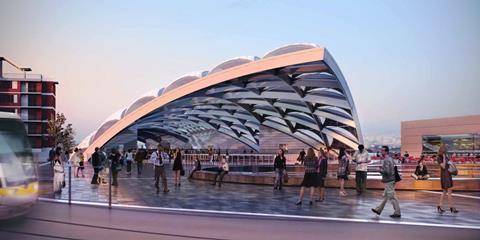 ITALY: Approval has been granted for construction of a peoplemover to link Firenze's Santa Maria Novella terminus with the Belfiore high speed station now under construction to the north of the city centre.
The government and municipality have also approved construction of a new station for main line suburban services adjacent to Belfiore; this is to be known as Firenze Circondaria.
The total programme is expected to cost €135m, of which €60m will be spent on the station and €75m has been allocated for the peoplemover. The work has been included in the government's national recovery plan (Piano Nazionale di Ripresa e Resilienza) outlined on May 2, and a request for co-funding has been submitted to the EU.
The fully automated peoplemover will run on a 1∙3 km long alignment and have an estimated ridership of 21 000 passengers a day. It will augment tram route T2 which also connects the future high speed station to the city centre.
Civil works at Belfiore resumed in early April, having been suspended in February 2019 pending a review of the scheme by the Ministry of Infrastructure & Transport. Construction of the new station had begun in 2010, but work is only expected to begin this year on the 7 km twin-bore tunnel to take the high speed services under the approaches to the city's Santa Maria Novella terminus and improve reliability by eliminating the current time-consuming reversal.
The proposals had been highly controversial locally, mostly because Belfiore will be much further from the city centre than SMN. The peoplemover and Circondaria station were proposed as part of the government's 2019 review in order to improve connectivity between the city and the high speed station.
A feature article on the Belfiore scheme can be found in the September 2018 issue of Railway Gazette International.