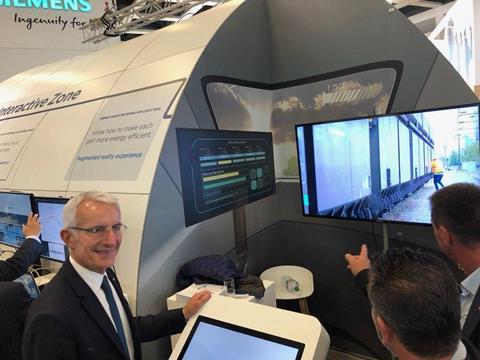 INNOTRANS: The trade union strike action which has disrupted France's rail network for much of this year has cost national railway group SNCF €780m, President Guillaume Pepy said at the InnoTrans trade show in Berlin on September 19.
Speaking alongside SNCF Réseau President Patrick Jeantet, Pepy nevertheless painted a picture of a railway group in the throes of rapid change in the wake of the government enacting its railway reform legislation this summer. 'We have no time', Pepy said. 'We have 15 months to become a normal company.' This means that from next year, SNCF will be established as a limited company with the government as its sole shareholder. It will also no longer offer protected legal status to new recruits. These reforms have been strongly opposed by the railway unions.
'The railway reform law will affect the whole rail sector', Pepy insisted. 'SNCF must become fit to face competition.' The market for regional passenger services will be opened to competition from the end of 2019 and the high speed network from 2020, he added, bringing France into line with European regulations on liberalisation.
While acknowledging that it was 'difficult' to predict when SNCF would begin to face competition either through competitive tendering or on-rail, Pepy felt 'pretty sure' that Transdev, RATP and Arriva would enter the regional market. On the high speed network, he suggested that 'other European railways like DB and Trenitalia' might not be 'as keen as they once were' to focus on growth outside their home markets.
Nevertheless, Pepy said that SNCF would need to find cost savings worth €4·6bn by 2026, in return for 'more investment in rail'. He pointed to progress SNCF had already made in achieving the competitiveness objective, including launching a €500m renovation of Paris-Nord station and placing an order for 100 'TGV of the future' trainsets with Alstom.
'We are ambitious about the high speed business', he said. 'Take our low-cost high speed service Ouigo. It's one of the best things SNCF has done in many many years', he believed. The reinvention of the TGV offering would be a priority looking ahead, he added, with Ouigo expected to account for 25% of all TGV journeys by 2020.
'The market is segmented now. We already serve more than 100 million passengers a year in high speed across our brands, but lots more people want to travel by TGV and would do so if it were cheaper', he suggested.
Infrastructure renewal
Jeantet meanwhile outlined how increasing spending on digital railway tools would underpin a large-scale renewal of the conventional main line network in keeping with the government's desire for the SNCF group to focus on everyday transport. As well as the GoA2 automation programme planned for Paris RER Line E, Jeantet said that ETCS Level 2 would be installed between Marseille, Nice and the Italian border crossing at Ventimiglia. This would be the first legacy main line to be resignalled with ETCS in France, and SNCF Réseau is now in discussion with the government over a national roll-out of Level 2 'and in future Level 3'.
However, speaking to Railway Gazette, Jeantet was cautious not to over-emphasise the capacity gains that can accrue from digitisation of existing railways. 'We must be able to manage traffic flow at key hubs, and react quickly to any problems', he said, 'but we recognise that where you have a mix of train types sharing an existing line, it will be hard to use digital train control alone to run more trains.'
Jeantet also confirmed that SNCF Réseau's historic €35bn debt would be transferred to the state 'in two steps'. In preparation for market opening, SNCF Réseau will also take over the Gares & Connexions station management business from SNCF Mobilités. 'We must welcome more trains onto the French network, and competition for us means more potential customers', he emphasised.