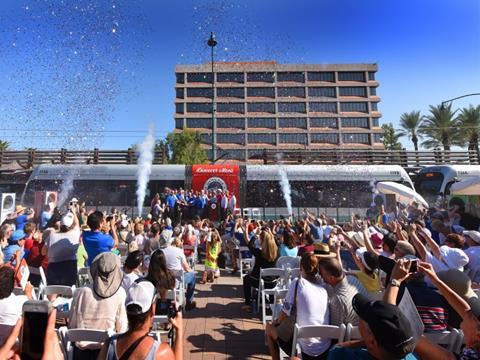 USA: The Central Mesa extension of the Valley Metro light rail line in Phoenix was inaugurated on August 22, with events along the route to mark the opening.
The 5 km extension is the first since the initial 32 km route was put into service at the end of 2008. It runs east from Sycamore Main Street to Mesa Drive with three intermediate stops; there is a 500-space park-and-ride site at Mesa Drive.
Construction started in mid-2012 and was undertaken by the Valley Transit Constructors joint venture of Kiewit, Mass Electric Construction Co and Parsons Transportation Group. The Federal Transit Administration provided a $75m grant; a further $71m came from countywide transportation tax funds and $53m came from federal air quality funds.
The alignment runs primarily on a road median strip. There are three traction substations that feed the 750 V DC power supply. Services are operated using the existing fleet of 50 Kinki Sharyo LRVs.
A further 3 km two-stop extension from Mesa Drive to Gilbert Road is due to open in 2018. Before this opens, the 5·2 km first phase of the Northwest extension to Dunlap Avenue will extend the route at the other end in March 2016.
A feature on Valley Metro appears in the March 2014 issue of Metro Report International, available to subscribers in the digital archive.