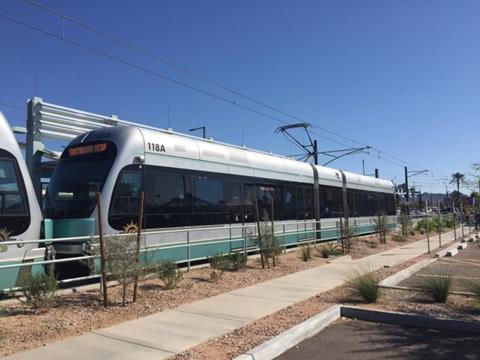 USA: Residents of the city of Phoenix have voted overwhelmingly to reject a local legislative measure that would have halted funding for expansion of the city's Valley Metro light rail network.
Mayor Kate Gallego confirmed on August 28 that voters had rejected the Proposition 105 and 106 proposal, with only 38% of voters backing the measure. Proposition 105 would have seen funding diverted from light rail investment towards road repairs and other infrastructure work.
A number of extensions to the Valley Metro network are being planned under the city's 35-year multimodal Transportation 2050 programme. According to Valley Metro CEO Scott Smith, work should begin on the 8 km South Central Extension in the autumn.
'I think the voters have said, in no uncertain terms, they like public transportation and they like light rail and they want to extend it', he told local radio.
The American Public Transportation Association welcomed the result. 'Congratulations to the forward-thinking residents of Phoenix, who voted to ensure that their light rail system can expand to better serve the transit needs of a rapidly growing city looking to the future. Phoenix made it resoundingly clear to the naysayers that light rail is essential to their economy and their community', said APTA President Paul Skoutelas