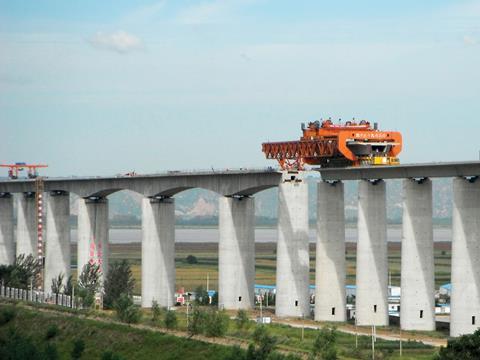 CHINA: Proposals for a total investment of 2·8tr yuan (US$438bn) in new railway construction have been included in the country's 13th Five Year Plan covering the 2016-20 period, the Economic Information Daily announced on November 27.
More than 23 000 km of new line would be constructed, with priority going to inter-city rail networks serving the main conurbations and routes to open up the mid-western provinces. Around 250bn yuan is to be invested in 4 600 km of new line serving Shaanxi province, while a further 160bn is envisaged to add 1 374 km in Fujian.
Further high speed routes are envisaged to complement the expanding network of Passenger-Dedicated Lines, including links from Yinchuan to Lanzhou, Baotou to Xi'an, Chongqing and Guiyang, Datong to Taiyuan and Zhanjiang, and Xiamen to Changsha and Chongqing.
Urban railway expansion in the Beijing – Tianjin – Hebei conurbation is expected to add no less than 1 700 route-km over the five year period, including 800 km of metro and 900 km of suburban railways. Beijing's Municipal Transport Commission recently adopted a long-term plan for the development of a 'one-hour transport grid' radiating up to 70 km from the capital. This envisages the construction of 23 new railways totalling 3 453 km by 2050, of which eight routes totalling 1 012 km are to be completed by 2020.
The proposed national railway investment over the next five years is similar to the 2·8tr yuan target set for 2011-15 in the 12th Five-Year Plan. However, following a State Council decision to increase rail spending as an economic stimulus, actual spending in that plan period is now expected to total almost 3·5tr yuan. In the current year Chinese spending on new railway construction is expected to reach 800bn yuan, having increased by 11·3% per annum from the 580bn spent in 2011. This year is due to see around 8 000 km of new line put into service with the culmination of various projects in the 12th plan.
In conjunction with the 'Belt & Road Initiative' to improve connectivity between Asia, Europe and Africa, announced earlier this year, the five-year plan sets specific targets for Chinese exports of railway technologies and products. By 2020 exports for the high speed, conventional and metro sectors expected to account for more than 30% of total railway equipment sales exceeding 650bn yuan, and for 15% of railway-related services.