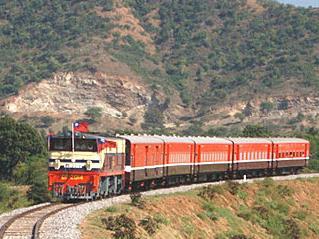 MYANMAR: As part of its re-engagement with Myanmar after ceasing operations there in the 1980s, the Asian Development Bank has published a report recommending a restructuring of the 'complex and overlapping institutional structure' which it believes is impeding effective management of rail, road water and air transport.
ADB says Myanma Railways is 'a relatively robust state enterprise' which has managed to keep operating 'with reasonable levels of service under very difficult circumstances'. Three decades of international isolation cut off access to global expertise, but MR has managed to keep operating a disparate fleet of 400 locomotives, more than a quarter of which are more than 40 years old.
The rail network has almost doubled from 1 976 km to 3 516 km since the late 1980s. However the report says many of the new lines offer limited revenue potential. Freight traffic has increased by just 50% to 3 million tonnes, with much of this being carried on the older parts of the network.
The new lines were often built through difficult terrain, with the number of bridges doubling to more than 11 000 and the number of tunnels increasing from none to 12. Meanwhile, little funding has been available for the operation and maintenance of the more economically important existing network.
The ADB report recommends institutional reform to clarify responsibility for transport, along with a reduction in the state's dominance of transport and bringing tariffs on government-controlled services closer to commercial levels.
It says investment should initially be targeted at projects which offer quick and visible benefits, and provide training and hands-on experience for implementing agencies.