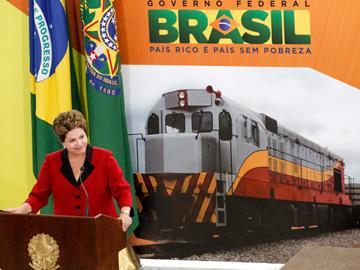 BRAZIL: The federal government launched a logistics investment plan on August 15 that will see R$91bn spent on 12 new railway projects totalling 10 000 km over the next 30 years.
As well as reviving rail freight, the plan aims to 'break the monopoly' on the provision of rail freight services and cut rates.
Under a PPP model, the government will award concession contracts for the construction and operation of the new lines. Capacity on these new routes will be purchased by federal railway construction agency Valec, which will then sell it on to shippers moving their consignments, independent freight operators and freight concessionaires.
Projects will be taken forward by a new planning and logistics agency, EPL. The government says that funding will be made available on 'favourable' terms, at an interest rate up to 1% over the long-term rate set by federal development bank BNDES (5·5% for the quarter from July to September 2012) and with repayment over 25 years.
According to President Dilma Rousseff, the programme would finally provide Brazil with the transport infrastructure that its size required. The federal government's aim was to work with project concessionaires 'to obtain the best that private enterprise can offer in terms of efficiency, and the best that the state can and should offer in the planning and management of public resources', she said.
Following studies and public hearings, tenders for the first group of six projects totalling 2 600 km are to be published in March 2013, with contract signature scheduled for May to July of that year. The second group comprising 7 400 km would follow in May 2013, with contracts signed between July and September.
Group 1
São Paulo ring railway north, Jundiaí - Manuel Feio
São Paulo ring railway south, Evangelista de Souza - Ouro Fino
Access to the port of Santos, Riberão Pires - Raiz da Serra - Cubatão/Santos
Lucas do Rio Verde - Uruaçu
Estrela d'Oeste - Panorama - Marcaju
Açailândia - Vila do Conde (Belém)
Group 2
Uruaçu - Brasília - Corinto - Campos
Salvador - Aracajú - Maceió - Recife
Rio de Janeiro - Campos - Vitória
Belo Horizonte - Salvador
Marcaju - Cascavel - Mafra
São Paulo - Mafra - Porto Alegre - Rio Grande