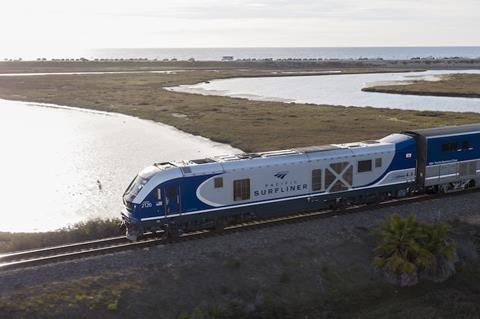 USA: The California State Transportation Agency has awarded $500m in capital grants for 17 'transformative' rail and public transport projects under its Transit & Intercity Rail Capital Program.
The grants announced on April 21 are intended to support design and construction works, and will be complemented by federal, local and other state funding. According to CalSTA, 'in total, the projects receiving funding leverage more than $4·9bn in additional investment'.
TIRCP funding is being provided through the Road Repair & Accountability Act of 2017, which makes available more than $7bn for investment in 2018-27, and from the state's Cap & Trade Program and Greenhouse Gas Reduction Fund. It is intended to support the state's climate and air quality goals, which aim to reduce greenhouse gas emissions by 5 million tonnes through modal shift. Since 2015 CalSTA has awarded $5·8bn for 74 projects with a total value of more than $25bn.
The 2020 grants are grouped into three packages, covering the San Francisco Bay Area, Southern California and the rest of the state.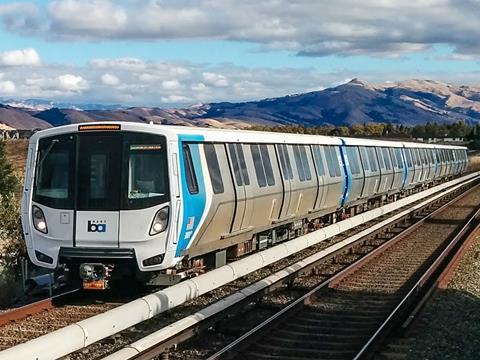 'Transforming the Bay Area' allocates $107m towards the $3·5bn BART Transbay Core Capacity project to lift capacity in the cross-Bay tunnel from 23 to 30 trains/h, including the acquisition of a further 34 metro cars. San Francisco Municipal Transport Authority gets $41·7m towards the $87m Muni Forward programme, which includes targeted improvements to the J and M light rail lines and project development for its Train Control Upgrade Program.
'Transforming Southern California' will provide $107m to LA Metro and SCRRA to support increased service on Metrolink's Antelope Valley Line. This $220m project envisages a basic hourly service each way and a half-hourly train between Los Angeles and Santa Clarita, and will also fund trials of multiple-unit rolling stock and zero emission rail vehicles.
The City of Inglewood has been awarded $95m towards the $1bn project to build a 2·6 km automated peoplemover with three stations, connecting the Los Angeles Sports & Entertainment District and venues for the 2028 Olympic Games with the Crenshaw/LAX light rail line.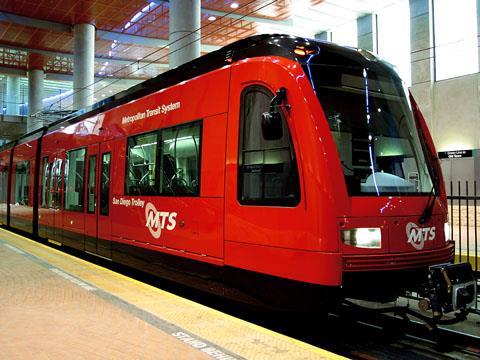 San Diego gets $12m towards the $36m project to double-track 1·6 km of light rail and provide an additional platform at the El Cajon Transit Center. This will relieve 'operational constraints' and enable Green and Orange line services to terminate here, connecting with a separate shuttle to Santee.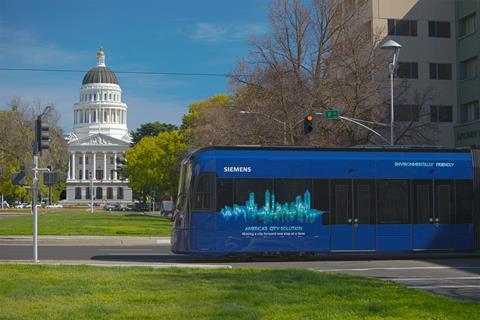 'Transforming the State of California' provides $23·6m towards the purchase of eight more low-floor LRVs for the Sacramento Gold Line, as part of its plan to switch from high to low-floor operation. The LOSSAN agency which oversees Amtrak's Pacific Surfliner corridor will get $38·7m, funding the construction of a new Central Coast Layover Facility in San Luis Obispo to supports the operation of 'more and longer inter-city trains', as well as a resited stabling and maintenance facility in San Diego and rolling stock modernisation.
'The $500m in grant awards made today will increase transit service on new and existing routes, provide for a more integrated transit system, reduce greenhouse gas emissions and support jobs', said CalSTA Secretary David Kim. 'Although the current Covid-19 pandemic is putting tremendous stress on transit agencies, these funds support long-term capital projects, and will help support the economic recovery in the years ahead.'