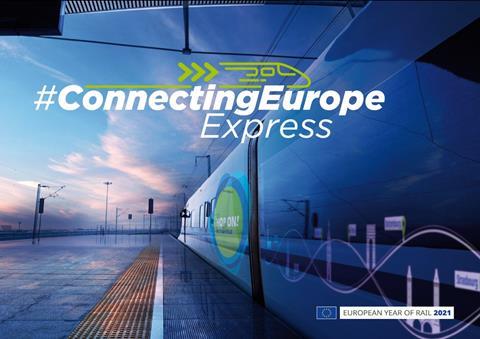 EUROPE: Marking Europe Day on May 9 and the EU Year of Rail, the European Commission has confirmed the programme for its Connecting Europe Express exhibition train.
Intended to demonstrate 'the power of rail to connect people and businesses', the project will also celebrate the cultural, economic and physical links that have developed between EU member states and emphasise the role of EU transport and infrastructure investment policies.
A variety of events and activities are planned for each of the stops, in order to 'shine a light on the key role that rail plays for our society', and also highlight the challenges that rail must still overcome to attract more passengers and freight. Five conferences have already been confirmed in Lisboa, Bucharest, Brno, Berlin, and Bettembourg, which will discuss the targets and action plans for rail outlined in the EU's Sustainable & Smart Mobility Strategy, as well as highlighting the significance of the Trans-European Network for Transport.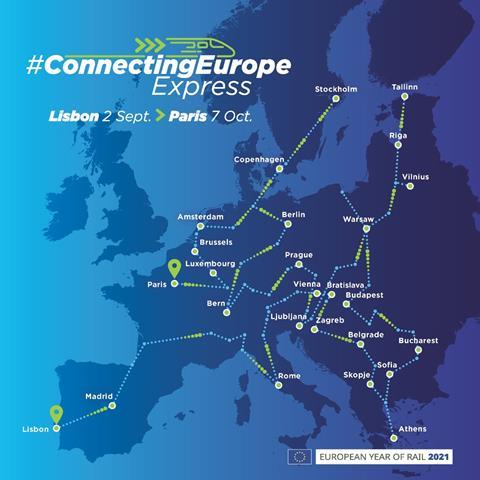 Reflecting the breaks of gauge, three separate trainsets will be used. The principal 1 435 mm gauge Connecting Europe Express will be formed of six coaches: two exhibition cars displaying railway technology and innovations, a conference coach, plus seating, dining and sleeping cars. A separate 1 668 mm gauge train will run in Portugal and Spain, and one of 1 524 mm gauge in the Baltic States, meeting up with the standard gauge train at Hendaye and Kaunas respectively.
The Express will start from Lisboa on September 2, marking Portugal's presidency of the Council of the EU for the first half of 2021. Between them, the three trains will visit more than 40 cities in 26 countries, including Ljubljana to acknowledge the Slovenian presidency for the second half of this year, before terminating in Paris on October 7 as a precursor to next year's French presidency.
'Crisscrossing the continent, from Lisboa to Bucuresti and Berlin to Paris, the Connecting Europe Express will follow routes that bind us together — whether as countries, businesses or people', said European Commissioner for Transport Adina Vălean 'While a symbol for connectivity, this train also serves as a reminder that we still have a long way to go and much work to do before rail becomes the transport option of choice for Europeans. Welcome the Connecting Europe Express as it stops at a station near you and join the events taking place around the continent.'
Acknowledging the involvement of train operators, infrastructure managers and 'numerous other partners at EU and local level in what he described as a 'unique endeavour', CER Chair and ÖBB CEO Andreas Matthä said the Connecting Europe Express was 'proof of the importance of the European Year of Rail. In order to achieve our climate targets, we need to further strengthen the vitality of rail with more international long-distance passenger rail services and we must also consistently shift freight transport to rail.'
Connecting Europe Express indicative schedule
September 2
Lisboa
September 3
Madrid
September 4
Hendaye, Bordeaux
September 5
Chambéry, Torino
September 6
Milano
September 7
Genova, Roma
September 8
Verona, Bolzano
September 9
Brenner, Innsbruck, Salzburg, Linz, St Pölten
September 10
Wien, Bratislava Petržalka,
September 11
Sopron, Szombathely, Gyékényes, Zagreb
September 12
Beograd
September 13
Niš, Skopje
September 14
Gevgelia, Idomeni, Thessaloniki, Athens
September 15
Athens, Thessaloniki, Kulata, Sofia
September 16
Ruse
September 17
Bucuresti
September 18
Brașov, Sibiu, Oradea, Arad
September 19
Lőkösháza, Budapest, Košice, Muszyna, Warszawa
September 20
Gdańsk
September 21
Gdańsk, Warszawa, Białystok
September 21
Tallinn, Tartu, Valka, Riga, Vilnius
September 22
Trakiszki, Kaunas, Kraków
September 23
Ostrava, Břeclav, Graz, Maribor, Ljubljana
September 24
Celje, Maribor, Graz, Břeclav, Brno
September 25
Praha
September 26
Domažlice, München
September 27
Ulm, Stuttgart, Bern,
September 28
Basel, Frankfurt
September 29
Berlin
September 30
København
October 1
Malmö, Lund, Stockholm
October 2
Hamburg
October 3
Bad Bentheim, Amsterdam
October 4
Rotterdam, Roosendaal, Antwerpen, Brussels
October 5
Bettembourg
October 6
Strasbourg
October 7
Paris
Websites
We are not responsible for the content of external sites