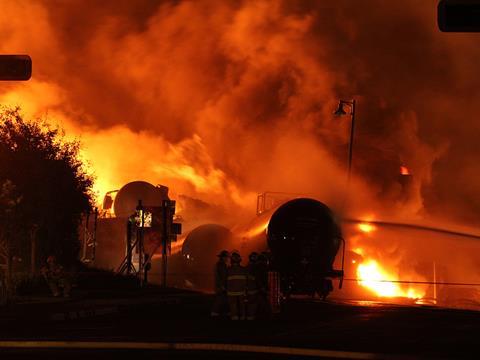 USA: The Department of Transportation issued a Notice of Proposed Rulemaking on July 23 setting out 'comprehensive proposals' to improve safety in the movement of flammable materials by rail, with a particular focus on crude oil and ethanol.
The proposals are based on an Advanced Notice published by the Pipeline & Hazardous Materials Safety Administration in September 2013, which attracted more than 150 000 responses. The NPRM has been issued for 60 days of public consultation, but DOT says that 'given the urgency of the safety issues addressed in these proposals, PHMSA does not intend to extend the comment period'.
The NPRM proposes an enhanced classification and testing programme for gases and liquids, as well as route risk assessments and advanced notification of movements to state emergency response teams. New operating rules would restrict 'high-hazard flammable trains' containing 20 or more tank cars to 65 km/h in 'high risk' urban areas, or 80 km/h if they are composed only of wagons conforming with higher design standards.
DOT would like to see all HHFT equipped with enhanced braking, using 'alternative brake signal propagation systems'. These could include Electronic-Controlled Pneumatic brakes, use of a two-way End-of-Train device, or distributed power operation. Trains without improved braking could be limited to 50 km/h in some areas.
Responding to rail industry calls for regulation to enforce enhanced tank car standards developed voluntarily over the past few years, DOT has put forward three options which could become mandatory for vehicles built after October 1 2015, including the use of thicker puncture-resistant steel shells, enhanced braking and better roll-over performance.
The NPRM would require the phasing out within two years of older DOT-111 tank cars from the shipping of flammable liquids classified in Packing Group I, which includes most Bakken crude oil, unless they are retrofitted to comply with the later design standards.
'Safety is our top priority, which is why I've worked aggressively to improve the safe transport of crude oil and other hazardous materials since my first week in office', said Secretary of Transportation Anthony Foxx. 'While we have made unprecedented progress through voluntary agreements and emergency orders, today's proposal represents our most significant progress yet in developing and enforcing new rules to ensure that all flammable liquids, including Bakken crude and ethanol, are transported safely.'