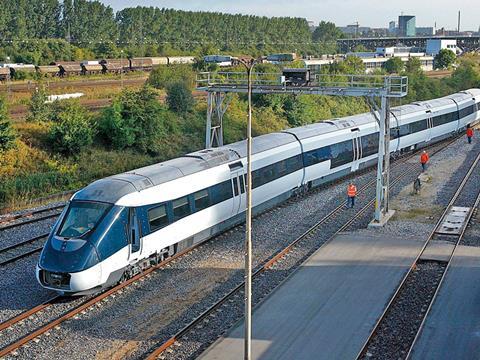 DENMARK: The new government is expected to stop work on many of the railway upgrading projects approved by the former coalition government in 2014, according to local news reports. National broadcaster DR has obtained a briefing note from the finance ministry which casts doubt over the government's ability to fund the DKr28·5bn programme.
The Togfonden DK package announced in March 2013 by the then Transport Minister Henrik Dam Kristensen was aimed at cutting journey times between the country's principal cities to 1 h and enhancing capacity across the network to support economic development. Making rail more competitive with road and electrifying much of the Banedanmark network would improve environmental sustainability, while creating up to 20 000 jobs. However, the package was to be funded through North Sea oil revenues and the recent fall in oil prices has reduced the amount of funding available.
Projects valued at around DKr7bn are set to continue, including electrification from Fredericia to Aalborg at a cost of DKr4·7bn and Roskilde to Kalundborg for DKr1·2bn. Smaller projects already underway include the Ny Ellerbjerg interchange station in western København and capacity improvements for freight traffic in northern Jylland.
Other projects with a total value of Dr21·1bn are expected to be stopped. These include the planned cut-off and new bridge over Vejle Fjord, priced at DKr4·4bn and a direct line from Odense to Middelfart in western Fyn costing DKr5·4bn. A new alignment between Hovedgård and Aarhus in eastern Jylland, costing DKr3·4bn and a DKr1·9bn upgrading of the Fredericia – Hobro – Aalborg line for higher speeds would not go ahead.
Halting the electrification of the Vejle – Struer and Aalborg – Frederikshavn lines is expected to save a further DKr2·4bn. Smaller works to be postponed include station and platform improvements, and speed enhancement between Østerport and Helsingør, as well as a new link to Billund.
The signalling programme to roll out ETCS Level 2 across the national network, the København – Ringsted new line and the upgrading of the railway to the planned Fehmarn Belt fixed link are not part of the Togfonden DK package.