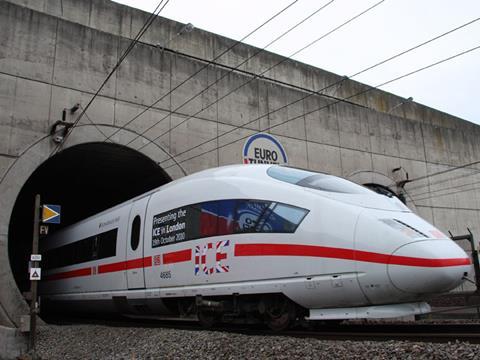 EUROPE: Deutsche Bahn submitted safety documentation for the operation of Velaro D high speed trainsets through the Channel Tunnel to the Intergovernmental Commission on July 11.
This will allow the IGC to clarify any outstanding matters before DB formally applies for a safety certificate to operate the Siemens-built trains at the end of July. DB is anticipating approval in 'late summer', and will undertake 'extensive' trial running with the expectation of launching services to London during 2013.
'We have provided all the evidence necessary for the fundamental approval of our ICE trains in the Channel Tunnel', said Ulrich Homburg, DB board member for Passenger Transport. 'This means that we are now much closer to meeting all the requirements for a direct ICE service between London and cities such as Köln, Frankfurt and Amsterdam.'
On July 2 Eurotunnel Chairman & CEO Jacques Gounon wrote to shareholders saying the IGC had approved the use of distributed traction in the Channel Tunnel, following a recommendation by the European Railway Agency. Gounon said that when DB and Eurostar submit safety cases for their future Velaro D and e320 trains, 'a negative outcome is almost impossible to imagine'.
A Swiss engineering consultancy prepared a comprehensive safety study for 200 m long DB Velaro D trainsets operating singly or in pairs. A second group of experts simulated evacuations, and a trial was undertaken inside the tunnel last October. The failure of five Eurostar trains in December 2009 also provided real-world experience of train evacuation.
Security and immigration procedures need to be in place before passenger services can begin; a DB spokesman told Railway Gazette International that there is ongoing 'good dialogue with the relevant border authorities'.