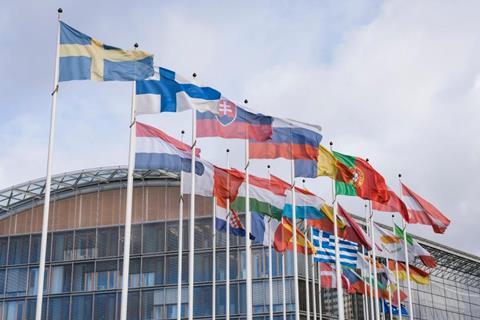 EUROPE: The European Investment Bank is consulting on updating its transport sector lending policies to prioritise projects according to its Climate Bank Roadmap, the European Commission's Sustainable & Smart Mobility Strategy and the EU Sustainable Finance Taxonomy.
Rail is expected to achieve a substantially larger share of the European passenger and freight markets, and EIB says this will require significant investment which needs to be made in a multimodal context incorporating last-mile considerations.
The Climate Bank Roadmap specifies that all rail infrastructure and rolling stock meeting the 'Substantial Contribution' threshold under the EU Taxonomy should be eligible for EIB support.
Demand for urban mobility is projected to continue growing. EIB says public transport is the most efficient sustainable option for high passenger volumes, with the the lowest operating costs, spatial footprint, pollution and noise and the highest safety.
Digitalisation offers the potential to drive behavioural changes and lead to more efficient management and use of assets, with the increased use of real-time multimodal information and efficient pricing. The deployment of intelligent systems, vehicle automation and Mobility-as-a-Service offer opportunities to reduce car ownership and foster multimodality, efficiency and safety.
'Transport needs to go green as fast as possible', said Kris Peeters, EIB Vice-President responsible for transport. 'Sectors like construction, electricity generation, and agriculture now emit much less than they did in 1990, while transport emissions have increased by 33%.
'We need to act boldly to accelerate the transition to sustainable and more resilient transportation. That is why we are keen to listen to citizens, partners, NGOs and the industry to get their perspective on what the transport investment priorities of the EU climate bank should be'.
The consultation closes on October 29, with the draft policy to be published in Q1 2022.