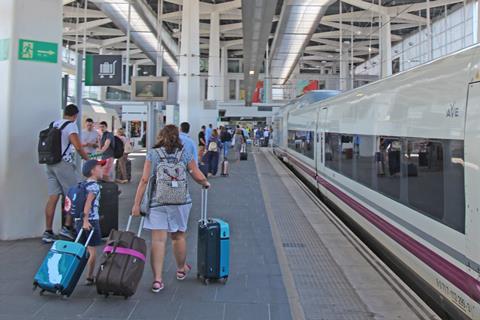 SPAIN: The European Commission has opened a formal investigation to assess whether national incumbent RENFE may have abused its dominant position in the passenger rail market by refusing to supply all ticketing information and real-time data to rival retailing platforms.
RENFE sells tickets offline and online directly via its websites and apps including its Dōcō MaaS platform, and indirectly through third-party ticketing platforms such as online travel agencies.
The Commission said it has concerns that RENFE may have restricted competition by refusing to provide third-party ticketing platforms with full content concerning its range of tickets, discounts and features, and real time data on its services. If proven, this may breach EU competition rules, which prohibit the abuse of a dominant position.
'Competition in the online rail ticketing market is crucial to ensure customers' access to affordable rail services and to promote environmentally-friendly means of transport', said Margrethe Vestager, Commission Executive Vice-President in charge of competition, on April 28.
'This is why we have been investigating whether RENFE's alleged refusal to provide rival ticketing platforms with all the information necessary to fine-tune their offers to customers would restrict and distort competition, to the ultimate detriment of consumers.'
A RENFE spokesperson told Railway Gazette International that the operator 'has always co-operated with public authorities on a wide variety of regulatory issues', and is 'co-operating intensively with the European Commission's Directorate-General for Competition and hope to reach a consensual solution.'
RENFE said access to real-time content and data is being provided in a 'changing global regulatory environment with the liberalisation of passenger transport and the development of distribution', and national competition authorities are looking into similar issues in other countries including Germany.