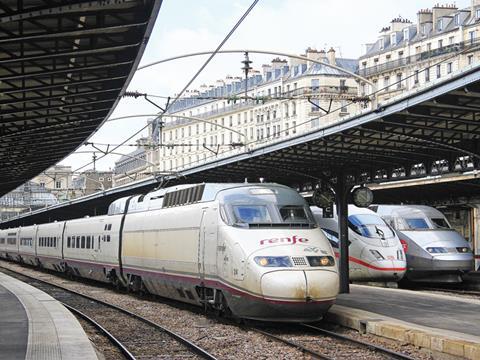 EUROPE: Debating the six legislative proposals in the Fourth Railway Package during a plenary session in Strasbourg on February 26, the European Parliament voted by a large majority to overturn some of the key proposals on vertical separation, transparency and competitive tendering presented by the European Commission in January 2013.
The MEPs endorsed the so-called 'technical pillar' of the package, which recasts the safety and interoperability directives and introduces a new regulation giving the European Railway Agency responsibility for issuing safety certificates and vehicle authorisations valid throughout the European Union.
The MEPs also endorsed the compromise proposal for revision of the Public Service Obligation Regulation 1370/2007 adopted by the European Parliament's Transport & Tourism Committee in December. This would introduce a right to operate open access domestic passenger services in all member states from 2019, but postpones compulsory competitive tendering of public service contracts until 2023.
However, when it came to the 'market pillar', covering the proposed revision of Directive 2012/34/EC on rail sector governance and market opening, Parliament adopted by a large majority amendments that scale back the proposals on the independence of infrastructure management and financial transparency within vertically-integrated holding group structures.
The Commission immediately expressed its disappointment about the votes, which it said would limit effective competition in the rail sector, and could put at risk the development of a Single European Rail Area. Vice-President for Transport Siim Kallas said 'this is not the strong signal that European rail needs to increase its attractiveness. Today's plenary vote is yet another demonstration of the tenacity of the vested national interests that proved more appealing to MEPs than the balanced and well-reasoned compromises reached by the Transport & Tourism Committee.'
The Council of Ministers has yet to adopt its own position on the package, having as yet only examined the proposals in the technical pillar. The Council is expected to finalise its position on these measures in March, and start examining the market pillar measures in the next few months.
The outcome of the vote was welcomed by the Community of European Railway & Infrastructure Companies, which said that the amendments to the market pillar would 'guarantee more flexibility for member states when it comes to choosing the model of governance for their respective infrastructure managers'. CER Chairman Christian Kern said it was 'beyond all question that we have to ensure non-discriminatory access to the network and we have to strengthen regulatory rights'.