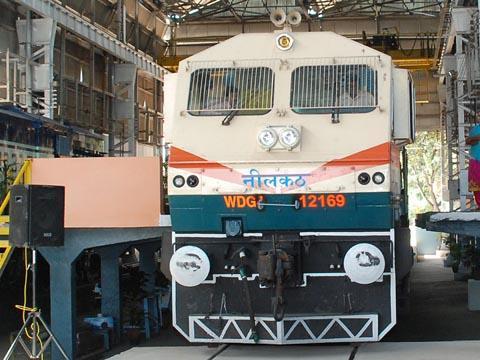 INDIA: Reform of Indian Railways along business lines and investment of Rs8·2tr in expansion and modernisation should be key priorities for India's 12th five-year plan in 2012-17, according to a report presented to the government and IR on February 28.
The report was drawn up by an Expert Group established by the Ministry of Railways to determine priorities for the plan. Its findings are also expected to influence the IR annual budget, which is due to be presented to Parliament on March 14.
As well as a list of investment priorities (below), the group recommends reforming IR to ensure 'business discipline', with the Chairman becoming a CEO charged with running the railway along commercial lines. Accounting would be reformed with the creation of profit and cost centres, and zonal railways given accountability for return on capital, output, safety and profitability.
At a corporate level, the report envisages the establishment of 'Missions' covering 15 priority areas: track & bridges, signalling, rolling stock, stations & terminals, PPPs, land & property, dedicated freight corridors, high speed trains, IT, indigenous development, safety, funding, human resources, project review and organisation.
Another priority is establishing 'substantial indigenous capabilities' to make India 'a global leader' in the supply of railway equipment. The report recommends establishing an Indian Institute of Railway Research, developing Indian standards, and empowering critical vendors. Universities should offer railway technology and management graduate programmes.
Total funding of Rs8·2tr will be needed over five years, with Rs2·3tr to come from private sources through PPPs covering stations and freight terminals, high speed lines, rolling stock manufacturing and leasing and energy projects.
Recommended priorities for Indian railway investment in 2012-17
Modernising 19 000 km of existing track.
Strengthening of 11 250 bridges.
Eliminating all level crossings.
Automatic block signalling on main lines, and on-board train protection with cab signalling for all other routes
GSM communications.
New-generation 9 000 and 12 000 hp electric locomotives.
5 500 hp diesel locomotives.
Coaches suitable for 160 or 200 km/h.
High speed trainsets for inter-city routes.
Advanced 'heavy haul' freight bogies.
'Green' toilets on all passenger trains.
34 multimodal logistics terminals.
Real time information.
Modernisation of 100 major stations.
Internet access at 342 stations
Completion of Eastern and Western Dedicated Freight Corridors.
Start of work on North-South, East-West, East Coast and Southern DFCs, with 6 200 km to be built in next decade.
300 km/h Ahmedabad - Mumbai high speed line.
Full coverage of the expert report and the Indian Railways budget will appear in the April 2012 issue of Railway Gazette International. Subscribe today.