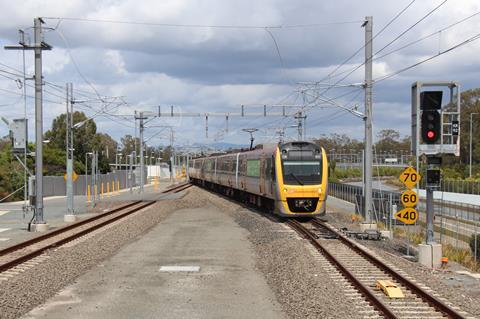 AUSTRALIA: The federal government has committed to increase funding for several railway projects in Queensland, as part of an A$3·8bn package of infrastructure spending announced by Prime Minister Scott Morrison on November 21.
Described by Queensland Premier Annastacia Palaszczuk as a 'huge win', the announcement followed lengthy negotiation between the federal and state governments over development of the 1 700 km Inland Rail freight corridor between Melbourne and Brisbane via Parkes and Toowoomba. The agreement is expected to unlock A$1·9bn for infrastructure spending in Queensland, of which A$1·3bn will come from the federal government. Around A$400m has been allocated for road improvements, and A$648m to accelerate projects that have already been committed.
The federal government has committed to provide a further A$157m for Phase 3A of the Gold Coast Light Rail line, which will see the route extended from Broadbeach south to Burleigh Heads; construction is now expected to start next year. Another A$90m will help to fund Stage 1 of the North Coast Rail Line Upgrade between Beerburrum and Nambour. The federal government has allocated A$50m towards the relocation of Loganlea station on the Brisbane – Beenleigh line, with the state providing A$45m; this work will now go ahead in 2020-21.
A$20m has been allocated to fund studies for a rail freight connection from the Acacia Ridge intermodal terminal to the Port of Brisbane, which will be matched by the Queensland government. The two will each provide A$10m for the development of a business case for a new Salisbury – Beaudesert line to serve a growing residential area south of the state capital.
'There are big infrastructure and transport tasks here in Queensland and it's important that governments of whatever political persuasion work together to get these projects done', Morrison explained. 'We've painstakingly gone through a process of identifying the projects that could be brought forward, the scoping of works, the scheduling of works, the additional funds that may be required.'
'These commitments demonstrate that the Commonwealth and Queensland governments recognise that well planned and funded rail projects play a vital role in making cities liveable, moving people and freight and driving our economy', said Australasian Railway Association CEO Danny Broad. Welcoming the news that Inland Rail is to move ahead, he said 'getting the Queensland government on-board was critical for final planning, approvals and rail corridor preservation to get the project moving and create thousands of jobs'.