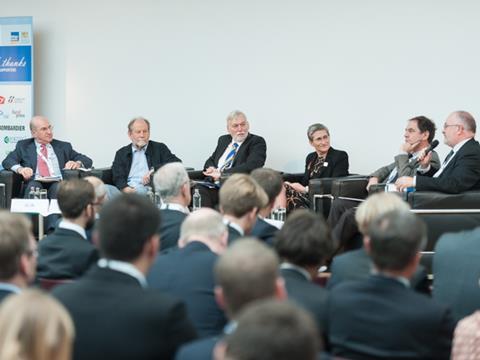 The urgency for rapid implementation of the Technical Pillar of the Fourth Railway Package was underlined by several speakers at the European Rail Summit, which was hosted by Railway Gazette at the Representation of the Free State of Bayern in Brussels on November 4-5.
Bringing together senior representatives from the European institutions with leading executives from the rail sector, the European Rail Summit attracted more than 250 registered delegates, with a further 380 signing up to watch the proceedings broadcast live over the internet.
Speaking in the Interoperability & Authorisation session, UNIFE Chairman Dr Lutz Bertling emphasised that a streamlined authorisation process for rolling stock was critical to support the global competitiveness of the European supply industry in the face of increasing competition, particularly from China. Calling for greater rail investment to encourage economic growth, CER chairman Christian Kern from ÖBB expressed concern that the Fourth Railway Package was 'still about tactics, not technical issues', but he too wanted the Technical Pillar to be brought forward.
Director-General of DG Move João Aguiar Machado told delegates that he 'did not believe that the package should be split', emphasising that 'it is not the Commission which is delaying progress'. However, he agreed that the Technical Pillar 'should not be held hostage' if the discussions over the liberalisation and governance proposals in the package did not make rapid progress.
To follow the full discussion, including panels on liberalisation, competition and rail freight, watch the recorded version of the Summit. This is now available to watch free of charge, along with some of the supporting presentations. Register at http://live.wavecast.co/european-rail-summit/