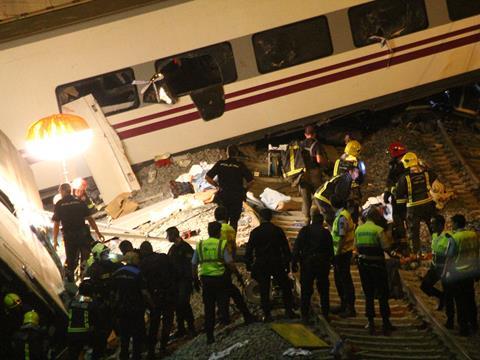 SPAIN: The Ministry of Development announced on August 2 that the ASFA train protection system is to be installed to enforce speed limits on the national network, following recommendations made by rail accident investigation commission CIAF in advance of its report into the derailment at Santiago de Compostela on July 24 which killed 79 passengers.
CIAF has recommended that ASFA should be progressively installed to enforce speed restrictions at locations between stations, automatically applying the brakes should a train approach such a section of track too fast. The ministry says that this is in line with measures undertaken by ADIF in the immediate aftermath of the accident, which have included the installation of three ASFA balises on 1⋅9 km of the approach to Santiago to enforce speed limits of 160, 60 and 30 km/h.
A review of ADIF safety procedures has included inspecting sections of the network similar to that where the accident took place, with particular attention paid to connections between the high speed and conventional networks and sections in built-up areas. A similar review in progress at RENFE is considering the protocols governing communications between drivers, control centre staff and other train crew, as well as driver training and assessment.
Further details of these programmes are expected to be provided on August 8 when ADIF President Gonzalo Ferre and RENFE President Julio Gómez-Pomar are due to appear before the lower house of the Spanish parliament. Development Minister Ana Pastor is due to appear the following day.