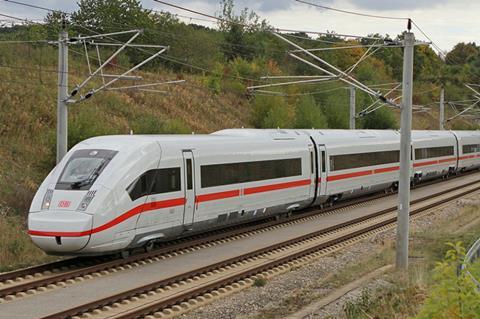 GERMANY: The federal government underlined its commitment to investment in the rail sector to enable significant increases in market share during a Rail Summit hosted by the Federal Ministry of Transport & Digital Infrastructure in Berlin on June 30.
The event marked the end of two years of work by six high-level committees under the banner of the Zukunftsbündnis Schiene (Future Alliance Rail) to define a long-term strategy for the German rail sector.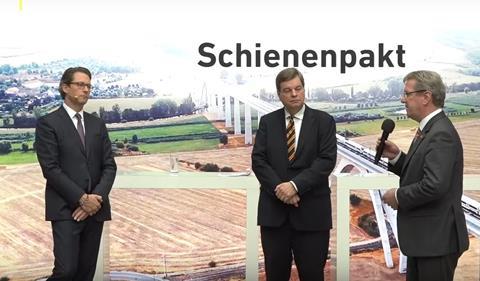 Symbolising the government's commitment to rail, Federal Transport Minister Andreas Scheuer and State Secretary for Transport Enak Ferlemann joined Deutsche Bahn Chairman Richard Lutz and 24 other representatives from the railway sector to place their signatures on specially fabricated sections of rail.
The long-term programme aims at doubling the number of passengers by 2030 and carrying 'substantially more' freight by the same date. At its heart is a Master Plan for Rail and a commitment to work towards a national regular-interval timetable, the so-called Deutschlandtakt. The Master Plan will also:
deliver more capacity, thanks to digitalisation and the upgrading of specific routes, corridors and nodes;
introduce more on-rail competition;
improve rail's environmental performance and reduce noise from trains;
introduce more innovative vehicles and technologies and promote more research;
provide more highly-motivated and qualified staff thanks to good working conditions;
attract more freight to rail.
The first step in the introduction of a national regular-interval timetable will be the launch of a half-hourly inter-city service between Berlin and Hamburg in December 2020. This is seen as a prelude to a programme to introduce 30 min interval services on all major inter-city corridors over the longer term. At the same time journey times are to be reduced with better connections to more cities and regions across the network.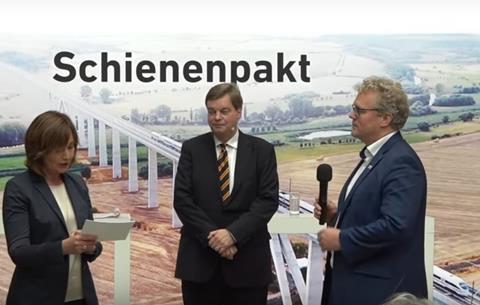 A steering group set up to develop the overall programme will continue to meet and the government plans to promote a Rail Day once a year. This would start in 2021 which the European Commission has proposed to designate as the 'Year of Rail'.
The government's pledges were welcomed by lobby group Allianz Pro Schiene as recognition of the role rail can play in national climate change policy, but Managing Director Dirk Flege warned that the national budget for 2021 would be the first real test of the government's commitment.
President of Germany's Railway Industry Association VDB Michael Fohrer suggested that an important basis for achieving climate-friendly mobility had been established and called for an ambitious implementation strategy. 'The Rail Summit is the starting gun for a new digital era of rail transport', he said.