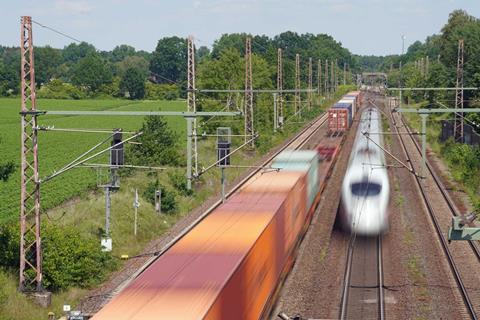 GERMANY: The coalition government has reached agreement on a package of transport and climate protection-related reforms that includes streamlining the planning process for road and rail projects.
After three days of debate, on March 28 the leaders of the Social Democrat, Green and Free Democrat parties, the so-called Coalition Committee, announced measures that include additional funding for rail investment projects.
This money will be at least partly sourced from a CO2 emissions-related increase in road tolls for heavy goods vehicles applicable from January 2024, 80% of which will be earmarked for the rail network. Deutsche Bahn is estimated to require €45bn by 2027 to update and modernise its 33 400 km network.
DB Chief Executive Officer and Management Board Chairman Dr Richard Lutz welcomed the outcome, which will 'reduce the investment backlog in the rail network'. He said 'the conditions have now been set for us to work with our partners in the rail sector and industry to modernise and digitise our ageing and failure-prone network. Better quality and more capacity on our overloaded network are the key to achieving the ambitious growth targets set for rail and to improving punctuality that is currently unsatisfactory. In brief, this is good news for the climate, for people and for the economy.'