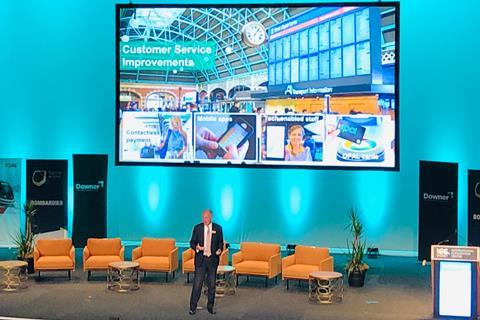 AUSTRALIA: New South Wales is experiencing 'a golden age' of rail investment, Sydney Trains CEO Howard Collins told delegates at the AusRail 2019 conference in Sydney on December 3.
Collins reported that ridership on Sydney's suburban and regional passenger network had been growing at 5 to 6% per annum over the six years since he joined the organisation. He suggested that New South Wales was seeing a shift in attitudes towards private car use. 'This is not just a Sydney urban change, we are seeing rural NSW communities embracing rail use too.' Concern about the changing climate in the region could be a contributory factor, he believed.
Noting that New South Wales has a transport strategy looking ahead as far as 2056, Collins joked that 'I'll be there'. 'We used to talk about individual modes of transport, but this strategy is about integrated transport and building better places.'
In the short term, more capacity is expected to be created through the roll-out of ETCS Level 2 across the suburban network. Given that Sydney Trains services run largely on segregated infrastructure, Collins predicted that this could yield capacity gains of up to 30%. 'We don't have to be revolutionaries, we can just emulate what others have achieved', he suggested, citing the deployment of ETCS with ATO on London's Thameslink corridor in the UK.
He also emphasised the importance of integrated control systems across the busy network. A Rail Operating Centre at Alexandria opened at the end of May at a cost of A$300m, performing non-vital functions across the network and giving controllers real time information in a single hub 'for the first time in Australia'.
Ahead of his secondment to a supervisory role within Transport for NSW in 2020, Collins expressed his pride at being able to 'run an integrated railway with one organisation responsible for everything from the ballast to the overhead wires to the staff and the customers'.
Faster Rail report
Delivering a keynote address at AusRail, New South Wales Deputy Premier John Barilaro reiterated the state government's commitment to a major rail spending programme as part of its A$55bn transport investment programme over the next five years.
He confirmed that a report on the potential for 'faster rail' routes on several corridors including Sydney – Canberra and Sydney – Newcastle, being authored by former HS2 Ltd Chief Engineer Prof Andrew McNaughton, would be submitted by 'early 2020'. This would support the state's objective to improve rail provision outside the Sydney conurbation.
Barilaro also gave strong backing to the federally funded Inland Rail project, reporting that the nascent Melbourne – Brisbane freight corridor was already delivering economic benefits to the state. The first double-stack intermodal trains have begun serving a dry port at Parkes, where Pacific National has recently opened a dedicated terminal. Barilaro said the state would launch a 'concierge programme' to encourage businesses to relocate to the area, attracted by better access to national and international supply chains.